The IMF may continue to lend Ukraine money despite its likely default on the debt it owes Russia if new lending laws are passed, the Wall Street Journal reported.
Ukraine owes Russia $3 billion. The debt, which is due in late December, will stall the IMF's deal with the country to lend it money if it refuses to pay. Ukraine previously tried to restructure its debt to Russia through the same structure as that of private creditors, but it was unable to. The Ukrainian government considers its debt to Russia private rather than intergovernmental debt.
"The reform of the IMF's lending framework, including its policy of non-toleration of arrears to official bilateral creditors, has been part of the fund's work program for some time," an IMF spokeswoman said.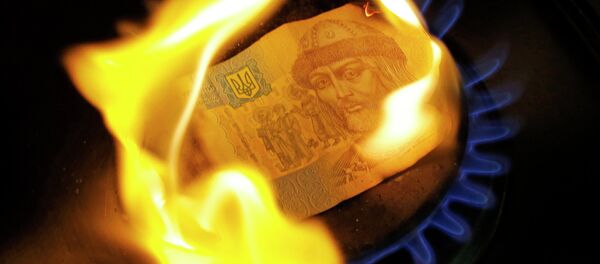 24 October 2015, 15:03 GMT
The Russian bond was issued to Ukraine's government in 2013, after its president stalled its association agreement with the EU, complaining about the high cost of the process. The post-coup government has continued paying interest on the loan, although its inability to pay off the principal in December may endanger the IMF's program for the country.
According to the WSJ, the IMF may now accelerate the process to change its lending rules because of Russia's insistence that its loan is repaid. A change in lending rules does not require a supermajority for the IMF, and sources told WSJ that the change may pass.
Bloomberg previously reported that Ukraine's failure to make inroads combating its notoriously high corruption, which has grown according to some reports, made the IMF conclude that it faces significant challenges.