MOSCOW (Sputnik) Anastasia Levchenko – On October 21, the largest NATO military exercises in 13 years moved into an active phase testing threat response. The drills involve over 36,000 troops from 30 NATO and partner countries.
"The US people are not aware of these exercises. They have not been talked about in the US corporate media. This is because the US people would not be happy with this escalation towards war," Lombardo said.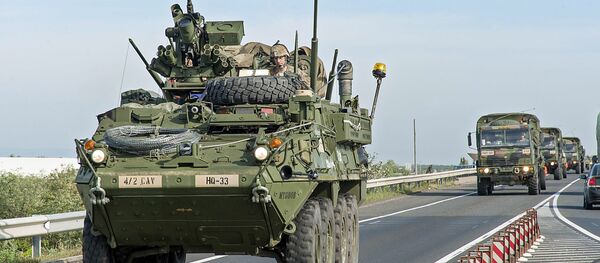 29 October 2015, 14:30 GMT
The peace worker added that US polls showed that the citizens in the country did not want war and that the US authorities had played down the importance of the drills.
Lombardo added that resources spent on military exercises would be better spent on assistance to asylum seekers arriving in Europe. Hundreds of thousands of refugees from crisis-torn countries in North Africa and the Middle East have been arriving in EU states, fleeing violence and poverty in their home countries.
The first phase of the Trident Juncture drills began October 3, running for two weeks in Canada, Norway, Germany, Belgium and the Netherlands. The second part is taking place in southern Europe – Spain, Italy, and Portugal – as well as in the Mediterranean Sea and the Atlantic Ocean.
NATO Military Buildup Along Russian Borders Provocation
The US United National Antiwar Coalition (UNAC) considers NATO's military buildup near Russia's western borders a provocation against Moscow, a UNAC co-coordinator told Sputnik.
On Wednesday, The Wall Street Journal reported, citing diplomatic and military sources, that NATO could send up to 1,000 soldiers to Poland and to each of the Baltic countries of Estonia, Latvia, and Lithuania or deploy a single battalion for the entire region.
"The buildup of NATO forces on the Russian border would be a provocation and an attack on Russian sovereignty. Relations today are at a low point between the two countries [Russia and the United States]," Joe Lombardo said.
He added that the relations between Moscow and Washington could not go too much lower and diplomatic efforts to improve ties should be initiated.
Lombardo also commented on the largest NATO military exercises in 13 years, the Trident Juncture, that moved into the active phase of testing threat response on October 21. The drills involve over 36,000 troops from 30 NATO and partner countries.
"These exercises can and will further destabilize the geopolitical situation because Russia and other targets of NATO will need to defend against any attack or threat of attack," Lombardo said.
NATO-Russia relations deteriorated sharply in 2014, following Crimea's reunification with Russia and the beginning of an internal conflict in eastern Ukraine. The alliance accused Russia of meddling in the Ukrainian conflict and began to reinforce its presence in Eastern Europe, in response to what it considers Moscow's aggressive foreign policy.
Russia has repeatedly expressed concerns over NATO's military buildup along its western borders, warning that the alliance's expansion undermines regional and global security.