On October 30th, Russians paid tribute to the victims of the politically-motivated repression that occurred during the Soviet era. 
Marked annually since October, 1991, the event has since been complemented by a range of initiatives, from the 1990s and up the present, aimed at commemorating and memorializing these dark pages in Russian history.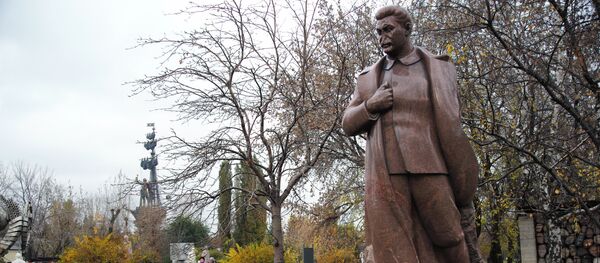 8 October 2015, 18:09 GMT
As recently as this August, Prime Minister Dmitri Medvedev approved a comprehensive government strategy on this matter, aimed at improving educational programs, easing access to archival documents and other materials, and creating a systematic approach to commemorate victims and to ensure that such a tragedy can never happen again.
Unfortunately, some Western media commentators couldn't help but to butt in on the commemoration, Radio Free Europe complaining that ceremonies "passed by too quietly." The Guardian and L'Agence France-Presse went even further in their attempts to politicize the day of remembrance, headlining their articles on the subject "Russia's Gulag Camps Cast in Forgiving Light of Putin Nationalism," and "Russia Opens Major Gulag Museum as Putin Blanks Victims' Commemorations." 
Ostensibly writing about the opening of a major new museum devoted to the Gulag labor camp system on Friday in Moscow, AFP spun their story to read that "the hi-tech state-run museum…will be a rare memorial to some of the millions who suffered under Communist rule," adding that "the authorities under Putin have often sought to play down the crimes of the Soviet regime."
The reality, of course, is that nothing could be further from the truth. In addition to commemorations in Moscow, which stretched across two days as activists met before the Solovky Stone monument in Lubyanka Square, ceremonies, both large and small, took place across the country, and many important public figures, from mayors to public figures, paid tribute to the victims' memory. 
Margarita Simonyan, editor-in-chief of Rossiya Segodnya, the news agency to which Sputnik is a subsidiary, offered her own humble tribute to the victims of repression, commemorating her own grandparents:
"My grandmother and grandfather were also victims of repression. They were deported from Crimea in 1944."
Simonyan then asked others whose relatives had been repressed to share their stories, using the hashtag #pamyat, the Russian word for 'memory'. 
"Who else's grandparents or great-grandparents were repressed? Write with the hashtag #pamyat."
Her request resonated with Twitter users, receiving hundreds of responses from people all across the country, including Moscow Mayor Sergei Sobyanin:
"My grandfather, Nikolai Ivanovich Ulanov, was repressed in 1937. My mother went through it with him."
Sobyanin added that the Department of Culture will build a new monument to the victims of repression on Sakharov Square.
Russians from all walks of life posted the names and stories of their own family members:
"My grandfather Nikander was imprisoned for 20 years on false charges."
"My grandfather Valentin and his brother were repressed, sent to Taishet, in the Irkutsk region. My grandmother Anna was also repressed."
"My great-grandfather was dispossessed as a kulak in 19337, and in 1937 he was shot. My grandfather died from tuberculosis in a labor camp. My mother was born in a special settlement."
"Grandma Fenya, such a kind, kind person. On her wall there was a portrait of a young Cossack with medals – her husband. He remains forever young."
Russians remember and pay tribute to all the pages of their history, tragedy and triumph alike, and will not be lectured on how they should commemorate their past.