A working team led by Russian Minister of Emergencies Vladimir Puchkov began operations at the Kogalymavia A321 crash site in Egypt, a ministry representative said during a briefing on Sunday.
"A working team led by head of the Russian Ministry of Emergencies Vladimir Puchkov is working at the A321 crash site. The rescue workers are going to sweep over 16 square kilometers of terrain," he said.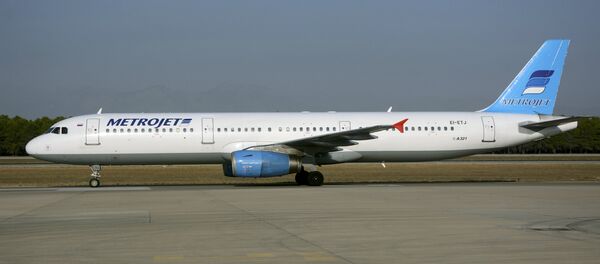 1 November 2015, 09:45 GMT
A total of 175 bodies have been recovered at the site of the tragedy so far, according to Al Ahram newspaper citing a source among the rescue operation personnel.
The source pointed out that some bodies were found a long distance from the crash site. All of the bodies were delivered to the Kibrit airbase to await transportation to Cairo.
Earlier an Egyptian officer told AFP that the body of a 3-year old girl was found in the vicinity of the  crash site but far away from the wreckage itself.
"We found a three-year-old girl eight kilometres from the scene" of the main wreckage, he told AFP from a military base in El-Hasana, around 60 kilometres from the crash site.
Many of the bodies were missing limbs, said the officer, who requested anonymity because he was not authorised to speak to the media. 
The crew of the Russian Airbus that crashed in Egypt on Saturday was considered fit for the flight after a medical examination, representative of Privolzhsky's transportation prosecutor's office Maya Ivanova said Sunday.
"The crew passed a through medical examination before taking off to Sharm El-Sheikh. They were considered to be fit for the flight," Ivanova told Rossiya-24 broadcaster.
A Kogalymavia Airbus A321 passenger airliner, with 217 passengers and seven crew members on board, crashed in the Sinai Peninsula in Egypt on October 31, 2015, leaving no survivors. The Sinai aircrash became the deadliest air accident in the history of Russian aviation, surpassing the 1985 disaster in Uzbekistan, where 200 people died.