United Nations Secretary-General Ban Ki-moon rejected Catalonia's self-determination in an interview to Spanish newspapers published on Saturday.
Pro-independence parties won a majority of seats in the region's legislature during elections in October, and are planning to demand full independence. Ban appealed to Spain's sovereignty and respect for diversity in his rejection.
"Spain is an independent and sovereign country that includes the Catalan region. It is in this way that it was admitted to the United Nations and acts within the international community," Ban said in comments translated by AFP.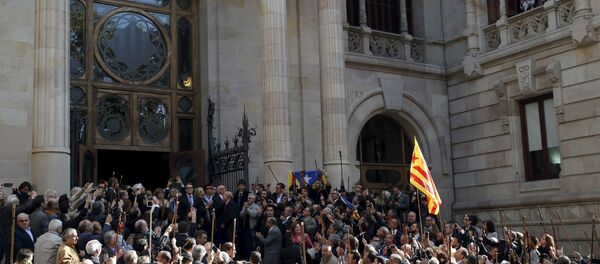 22 October 2015, 13:18 GMT
Ban added that Catalonia is not on the UN's list of non-self-governing territories, countries which the UN designated as places where people had not achieved self-government, primarily colonial entities of the US, the UK and France. Ban also called for a "consensual solution" between Spain and Catalonia on the issue.
"I ask leaders and the Catalan people to engage in dialogue," Ban added.
The pro-independence Junts pel Si (Together for Yes) coalition and their allies from the radical left-wing Popular Unity Candidacy (CUP) party secured 72 seats in the 135-member Catalan parliament. The People's Party of Catalonia, affiliated with the Spanish People's Party, holds 11 seats in the regional unicameral legislature.