ISIL has a number of sources from where it gets its revenue, but according to Ediboglu, one of the largest items of revenue is the sale of oil.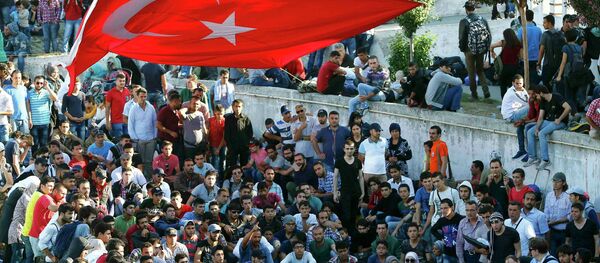 12 October 2015, 12:58 GMT
The Former MP said the Syrian oil fields are located in the Raqqa region. "ISIL holds the key to these deposits and together with a certain group of persons, consisting of those close to Barzani and some Turkish businessmen, they are engaged in selling this oil.
"There is evidence that the oil revenues amounted to $800 million, later this amount increased to 1-2 billion dollars. The investigation into this matter continues today.
There is information that 27 Turkish and Iraqi businessmen are directly involved in this trade. Iraq's central government has taken a number of measures in this regard."
He went on to say that the United Nations has likely provided the Iraqi and Turkish leadership with lists of the names of these businessmen. But so far the oil trade continues to bring huge profits to ISIL. From Turkey, the oil goes into the Mediterranean Sea and from there it is transported to various parts of the world.
"Turkey said that it does not help ISIL. However, there are various groups that Turkey considers to be 'reasonable' and provides them with considerable support and weapons. These groups are later subjected to pressure from ISIL or al-Nusra Front and are forced to sell weapons to these jihadists."
Mehmet Ali Ediboglu stressed the ineffectiveness of the actions of the coalition forces in the fight against ISIL. "The jihadists have not suffered any significant losses as a result of the bombings by the coalition forces in Syria. Most likely, this is due to the fact that they had leaked information about the strikes. Meanwhile, the Russian air operation is highly effective. Since the Russian airstrikes ISIL militants have begun to bear heavy losses."
"I suppose that in the next few months, the Syrian government will be able to establish its influence in the large parts of the country. If Russia continues its active operation and together with these airstrikes and ground attacks, these militants will suffer their final defeat."