BERLIN (Sputnik) — It is not simply a trade pact, but an agreement based on high EU norms, Merkel added.
"I am deeply convinced that this agreement is correct, but…we do not have to run after the United States and beg, we should be more active in these negotiations, and we are doing this," Angela Merkel said, as broadcast by Germany's NTV channel.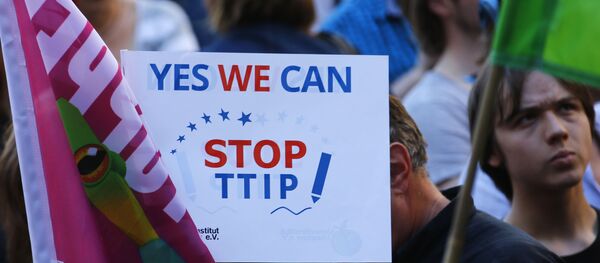 28 October 2015, 12:35 GMT
The controversial TTIP has come in for tough criticism for the unusual secrecy of its negotiations and the inability by any but the negotiators to see the text of the document.
The agreement seeks, according to TTIP-approved statements, the establishment of a transatlantic free-trade economic zone which would deregulate a consumer market containing an estimated 820 million people.
Critics of the deal point out that it threatens the principles of democracy, national sovereignty, the environment, as well as consumer and labor standards.