BEIJING (Sputnik) — Earlier in the day, US Navy's Pacific Command Chief Adm. Harry B. Harris said at Peking University in Beijing that Washington would continue its military patrols in the disputed waters of the South China Sea.
"[The United States] insists on its ships crossing waters close to the islands belonging to China to demonstrate its power under the pretext of freedom of navigation. It is a blatant provocation," Foreign Ministry spokeswoman Hua Chunying said.
China is determined to defend its sovereignty, security and interests, she added.
According to the spokeswoman, the United States is trying to deprive China of its right to defend itself as a sovereign state by insisting that Beijing should not deploy defense infrastructure on Chinese territory.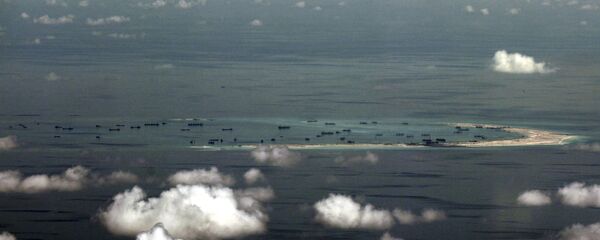 3 November 2015, 07:52 GMT
She said that increasing US military presence in the South China Sea was an "excuse for someone's strategy to change the balance of power in the Asia-Pacific region."
Last week, Beijing strongly criticized Washington after the naval destroyer USS Lassen sailed within 12 nautical miles of the Spratly archipelago in waters claimed by several regional powers. The United States said the maneuver did not violate international law.
Over the past few months, China has been building artificial islands, some with defense facilities, on the coral reefs of the Spratly Islands. Beijing claims sovereignty over the land and the 12 nautical mile zone surrounding the islands.
Washington does not recognize Beijing's claims of sovereignty over the man-made islands.