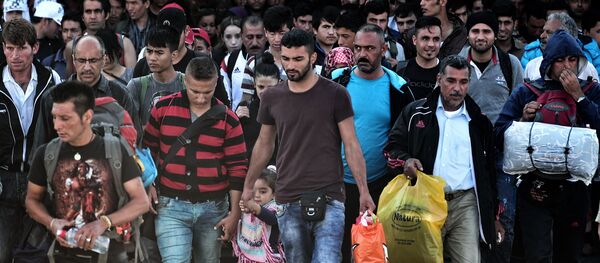 18 October 2015, 09:28 GMT
LUXEMBOURG (Sputnik) — The European Union is struggling to cope with a massive refugee crisis as hundreds of thousands of people flee conflict-torn regions, seeking asylum in the bloc. Over 710,000 migrants have arrived in Europe since the beginning of 2015, according to the EU border agency Frontex.
Pakistani citizens, along with Syrians, Afghans and Iraqis are among the largest migrant groups to arrive in the bloc.
"[Pakistan expressed] readiness to cooperate. We already have bilateral agreements between EU and Pakistan for return and readmission. The point is the smooth implementation of the agreement, and I found readiness and willingness to cooperate in an operational way to make sure that returns are happening for real, and this is something that we will follow up in the coming weeks," Mogherini told reporters after a meeting with Pakistani National Security Adviser Sartaj Aziz.
In October, the Council of the European Union announced the creation of a so-called Return Office within the framework of Frontex to assist with deportation of undocumented immigrants.