These artifacts, looted in Iraq and Syria, are in high demand in Britain and other European countries and often end up in public institutions, museums and in the hands of private collectors, according to RT's Anastasia Churkina.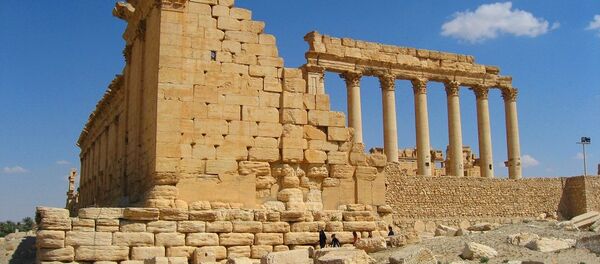 2 September 2015, 13:57 GMT
"Satellite imagery shows that archaeological sites in Syria are dotted with thousands of illegal excavations… that show there is looting on an industrial scale," UNESCO Chief Irina Bokova said.
"I'm calling this cultural cleansing," the head of UNESCO said, stating that the destruction and looting of cultural relics is an attempt to erase the cultural identity of Syria and Iraq.
Although cultural artifacts can be easily identified as coming from Syria based on their shape, insignias and other features, by the time artefacts reach Britain they change numerous hands and have forged supporting documentation which makes it almost impossible to determine when these items were brought to Britain, thus preventing them from being sold, Mark Altaweel from the Institute of Archeology of University College London explained.
"The chances of someone being seized, stopped and prosecuted are almost zero in the UK or anywhere in Europe, frankly."
The transfers of looted artifacts have complicated schemes that are hard to follow and track down. Once ISIL sells an artifact on the Internet it goes from Syria to another country, usually it is Turkey or Lebanon; and then from there it's shipped to a final destination that could be anywhere in the world, Dr. Amr Al-Azm, a former Syrian antiquities official and a history professor at Shawnee State University, told Radio Sputnik.
"It goes straight from ISIL to a middleman, from a middleman to maybe another middleman and then straight to a collector," Al-Azm told Sputnik.
Recent reports tell about ISIL barbarities and looting in Palmyra, the ancient city that is listed as UNESCO World Heritage Sites.
The Temple of Bel, the Baalshamin temple and the Arch of Triumph are among the priceless pieces of ancient art which have already been lost. The temples were destroyed in August and the gateway built by the Romans was blown up last month. According to the media outlet, the Arch of Triumph has long been regarded as "the most popular photo spot" in Syria.
Syria's antiquities director Maamoun Abdelkarim recently warned that Palmyra is on the verge of total destruction. The city that once attracted millions of tourists annually could only be saved if the international community helps the Syrian Army to get rid of Islamic State, he added.