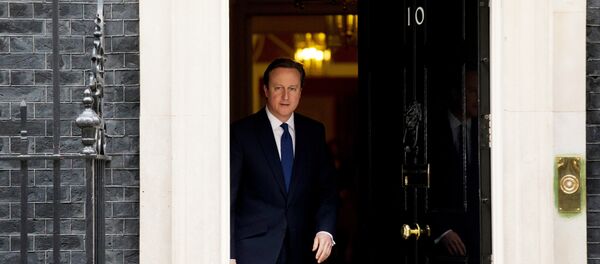 3 November 2015, 11:42 GMT
UK Prime Minister David Cameron has backed off asking lawmakers in parliament to vote on whether to join the US, France and Australia in targeting ISIL forces in Syria, although it does so in neighboring Iraq. 
In 2013, he lost a vote for military action against Syrian President Bashar al-Assad's forces and is wary about being defeated a second time over military airstrikes against ISIL in the country.
Cameron's position was weakened this week when a senior group of British lawmakers counselled against taking any military action in Syria, instead proposing greater diplomatic efforts to defeat ISIL.
The report by the House of Commons Foreign Affairs Committee said: "In September 2014, the House [of Commons] agreed to a motion authorizing airstrikes against ISIL in Iraq, on the basis that these would not be extended to Syria without further Parliamentary approval".
— Lena Whitaker (@LenaWhitaker1) November 6, 2015 
Michael Fallon says it's "morally indefensible" not to bomb Syria. No, Michael, it's morally indefensible TO bomb Syria. Remember Iraq?

— Steven~★☭ (@YorksSocialist) November 6, 2015 
The report concluded:
"We believe that there should be no extension of British military action into Syria unless there is a coherent international strategy that has a realistic chance of defeating ISIL and of ending the civil war in Syria. In the absence of such a strategy, taking action to meet the desire to do something is still incoherent." 
"Morally Indefensible"
However, in a clear sign of trying to win round opinion in Westminster over Syria military airstrikes, Defense Secretary Fallon said it was "more likely than not" that it was a bomb that bought down the A321 over Sinai. He told the London Daily Telegraph:
"We don't know whether it was ISIL. If it turns out to be ISIL, of course. ISIL is a danger to us all, as we have seen in Tunisia, as we see in Syria, as we have seen in Iraq."
In a clear reference to the iniquity of bombing ISIL in Iraq, but not in Syria, he added: 
"That is morally indefensible that our streets should be protected by French, Australian and American aircraft, when we are not prepared to bite the bullet and get the Tornados dealing with these supply routes."