WASHINGTON (Sputnik) — The US-led coalition against the Islamic State (ISIL) conducted 23 airstrikes in Syria and Iraq, destroying the terrorist group's infrastructure, the US Central Command said in a press release on Friday.
"In Syria, coalition military forces conducted nine strikes using bomber, fighter, and attack aircraft," the release said. "Separately in Iraq, coalition military forces conducted 14 strikes coordinated with and in support of the Government of Iraq using bomber, fighter, attack, and ground-attack aircraft against ISIL [Islamic State] targets."
The coalition conducted airstrikes near six Iraqi cities to the north and west of Baghdad, including Ramadi and Sinjar. The strikes hit multiple ISIL tactical units and fighting positions, as well as other infrastructure targets.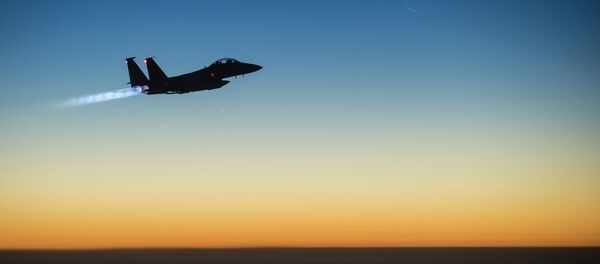 5 November 2015, 15:41 GMT
The airstrikes near three Syrian cities, including Abu Kamal and al-Hasakah, hit ISIL tactical units, fighting positions and crude oil collection points on Thursday, the Central Command said.
Russia also continues its air campaign against the ISIL in Syria, commenced on September 30 at the request of President Bashar Assad.
The Russian Air Force has performed well over 1,600 sorties, destroyed over 2,000 terrorist positions, according to the Russian General Staff.
On Thursday, the Russian Defense Ministry said its aircraft deployed in Syria had carried out 81 combat missions in the past two days, hitting 263 terrorist targets in eight Syrian provinces.