MOSCOW (Sputnik) — Since September 30, Moscow has been conducting pinpoint airstrikes on terrorist positions in Syria at President Bashar Assad's request. So far, the Russian Air Force has performed well over 1,600 sorties, destroyed over 2,000 terrorist positions, according to the Russian General Staff.
"This [efficiency of countering terrorism] can be proved by the the losses suffered by the terrorist organizations, such as the Islamic State, this month, following the start of the Russian campaign. A lot of command posts, depots, means of communication have been destroyed. All of this has led to the fact that the terrorists positions [in Syria] have weakened significantly," Haddad said, speaking at the conference of the Anti-Globalization Movement of Russia.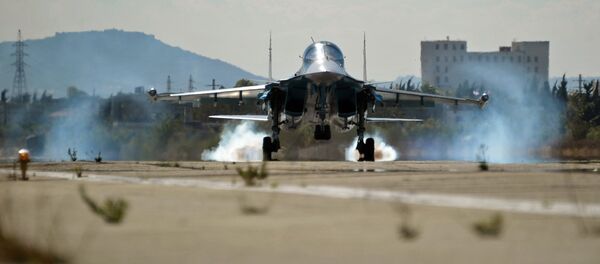 7 November 2015, 13:59 GMT
The ambassador said that the US-led coalition operations mostly proved unsuccessful.
Since September 2014, a US-led coalition has been bombing ISIL positions in Syria without the approval of the UN Security Council or Damascus. In September, Assad said that territories seized by ISIL had expanded, and the number of insurgents had increased since the beginning of the US-led bombings.
Syria has been in a state of civil war since 2011, with government forces battling against the so-called moderate opposition and various extremist groups, including the Islamic State (ISIL) militant group, and the Nusra Front.
Unlike Russia, the West, primarily the United States and its European allies, do not see Assad as the country's legitimate leader, and support the Syrian opposition which aims to oust the president.
Meanwhile, Russia has been assisting both the government and civilians of the war-torn country.