A PAC called DeportRacism.com is offering the bounty in cash, according to The Guardian.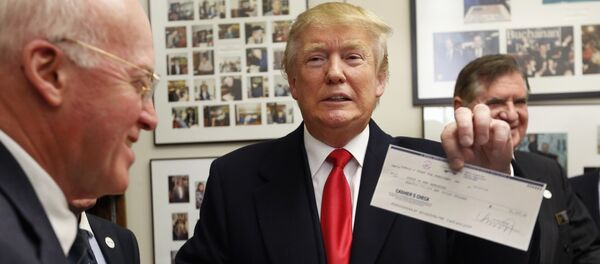 4 November 2015, 23:16 GMT
On Wednesday, Pro-immigration activists with America's Voice brought a petition to NBC Studios calling for SNL to disinvite trump. It contained 500,000 signatures. Earlier this week, the Congressional Hispanic Caucus sent a letter to SNL calling on them to drop Trump, and claiming the reality TV star's "demonizing Latinos and immigrants has created fear within these communities around the country."
The Republican presidential candidate brushed off the news and said the move would only get SNL higher ratings.
"Ratings will go even higher than they are going to be," Trump said at a press conference. "It's going to be one of their highest-rated shows ever and they're very excited about it."
Trump raised controversy in June when he delivered a speech in which he blamed illegal Mexican immigrants for "bringing crime" and being "rapists."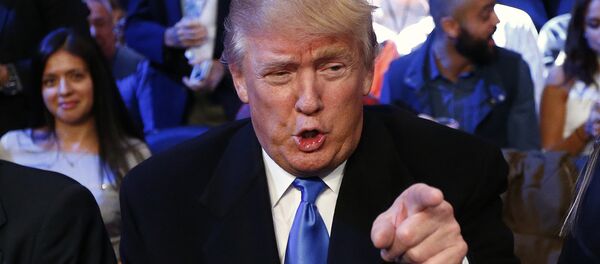 4 November 2015, 18:51 GMT
Nonetheless, he has been blazing the campaign trail and dominating the polls with his plan to deport 11 million people.
SNL's parent company NBC Universal and other networks severed ties with Trump after the speech. NBC has not elaborated on why SNL still booked Trump.
The Hollywood Reporter states that audience members at Saturday's taping of SNL will undergo heightened security measures. Protest organizer Luke Montgomery, who said he hopes "someone in the audience calls him a racist," said security will be boosted outside the studio as well.
"If he were to call black Americans rapists, murderers and drug dealers, that would not fly," Montgomery said during an interview with The Guardian. "So why is it ok that he would say that about Latinos? Saturday Night Live is really disgusting for having him on."
SNL broke its ratings record in 2008 when Vice-Presidential candidate Sarah Palin appeared on the show with comedian Tina Fey who played her in a skit.