7 November 2015, 16:56 GMT
KIEV (Sputnik) — The Kiev military has completed the withdrawal of weapons with less than 100 mm caliber in the eastern Ukrainian Donetsk region, a Ukrainian military spokesman said on Saturday.
In late September, an agreement on the withdrawal of tanks and weaponry of less than 100mm-caliber from the line of contact in eastern Ukraine was reached in Minsk. Kiev, as well as Lugansk and Donetsk, have signed the agreement.
Kiev-led forces withdrew mortars from Ukraine's eastern Lugansk Region in October. On Saturday, the Ukrainian forces announced they had began withdraw mortars on the Donetsk direction.
"It [the removal of mortars] has already been completed. We can say, the withdrawal has been finished by evening. It is complete in our [Donetsk] sector. It is yet unknown what shall follow, what kind orders will be given," Oleksandr Zavtonov told Ria Novosti.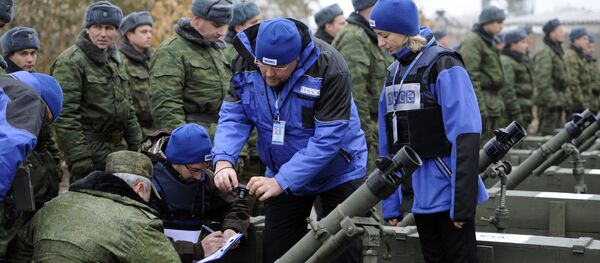 6 November 2015, 16:04 GMT
Earlier in the day, the eastern Ukrainian self-proclaimed Lugansk People's Republic (LPR) completed the withdrawal of weapons with less than 100 mm caliber from the contact line.
Southeastern Ukraine has been suffering from a crisis that emerged as a result of a military operation against local independence supporters, launched by Kiev authorities following a coup in April 2014.
In February, the warring parties signed a deal on Ukrainian reconciliation in the Belarusian capital, Minsk. However, numerous ceasefire breaches have been reported in Donbas since the Minsk peace deal was signed.
Since September 1, the ceasefire in eastern Ukraine has finally been fully observed.