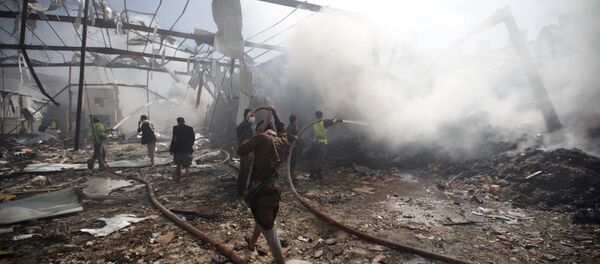 6 November 2015, 08:03 GMT
Earlier last week at the International Institute of Strategic Studies' (IISS) Manama Dialogue in Bahrain, Saudi Foreign Minister Adel Al-Jubeir and his Yemeni counterpart agreed in their opinions that the coalition's military operations in Yemen have entered their final stage.
"I would say, and I'm an optimist by nature, that the Yemeni conflict has entered its final stage," Al-Jubier said. "We look forward and hope for a stable nation and a prosperous Yemen."
In March Bahrain joined the Saudi-led campaign along with the UAE, Qatar, Kuwait, Sudan, Jordan and Morocco, targeting Houthi militants.
"The Houthis' and former President Ali Abdullah Saleh have accepted UN Security Council resolution 2216 and the re-opening of Yemeni ports by coalition forces, [these] were good signs that the country was ready to enter the resolution phase of the conflict," Al-Jubeir said. "Legitimate government forces are now in control of the vast majority of Yemeni territory. There still remain some areas that need to be liberated, including Sanaa, but the trend is moving in the right direction."
He also emphasized that the Houthis had the right to negotiate peace; however, he reiterated his threats over their number of representatives.
"The Houthis and the Yemenis have every right to be part of the Yemen political process; we have said that from the very beginning. The only thing they cannot have is a privileged position because that would distinguish them from other Yemenis, and that would not be fair," Jubeir concluded.
However, a Russian analyst has contradicted these optimistic statements from Saudi political figures, saying the conflict is far from over.
"I believe that with the Houthis, the story is yet to begin," said Maxim Shepovalenko, a senior analyst from the Moscow-based Center for Analysis of Strategies and Technologies (CAST). "What we saw until lately was barely a preface to it."
According to Shepovalenko, the Saudi led coalition will take time to end its operations in Yemen as the Houthis have showed themselves to be hard-to-get militants.
"Houthis… are operating basically within their native territory, or in a wider context, the territory they can exercise control of, i.e. northern Yemen. They turned out to be no less professional than Hezbollah and therefore would be a hard nut to crack in the mountain environment. To say nothing about Iran's covert — and perhaps overt — assistance," he said.
Shepovalenko added that the coalition has run out of time as the Saudis have already begun to spend money from their extra budget. He estimated that the funds would taper off within the next five years.
"On the contrary, the Houthis could sustain long enough, as evidenced by their belligerency since 2004," he said.
He concluded by saying that the statements of Saudi and Yemeni leaders are preliminary and addressed more to their counterparts as the Saudi-led coalition struggles to push the idea that military operations in Yemen have entered the final stage.
Since late March, the Saudi-led coalition has been carrying out airstrikes against Houthis at the request of Yemeni President-in-exile Abd Rabbuh Mansour Hadi.
When Riyadh first began its aggressive military campaign in Yemen, it was sold as a "quick intervention," a necessary move to defend against alleged "Iranian influence."