With debate over the potential benefits and impacts of the TPP heating up, there has been much talk about the effects of the deal on local Canadian industries.
Despite claims under the former government that the TPP would provide Canadian industries with a boost, Jim Balsillie, former CEO of Blackberry and founder of Canada's Center for International Governance Innovation, told local media that the deal could cost Canada hundreds of billions of dollars, calling it the "the worst deal the country has ever signed in its history."
There are also major concerns over the effects the trade deal will have on Canadian agriculture industries.
Dr Sylvain Charlebois, professor of distribution and food policy at the University of Guelph's Food Institute in Canada, told Sputnik there were many unanswered questions in the deal.
"I think overall, reading the deal, there are some very strong elements to support Canada's membership into this partnership. However, there are a lot of unknowns unfortunately, particularly in the area of agriculture."
Dr Charlebois said that Canada's protectionist supply management scheme, which works to protect local industries, would be thrown out under the TPP, with concerns over how this would impact local producers.
"Canada has supply management, particularly with poultry, milk and eggs, so we basically produce what we need in Canada. Now the Trans-Pacific Partnership would compromise the equilibrium we have between supply and demand domestically […] allowing milk from other member countries to come into the Canadian market."
"What would happen to quotas for example? But most importantly, what would happen to processing? So there's lots of questions being asked by farmers and processors, and now with the changing government, hopefully we'll get some clarity on these issues."
Fears Over Major Job Losses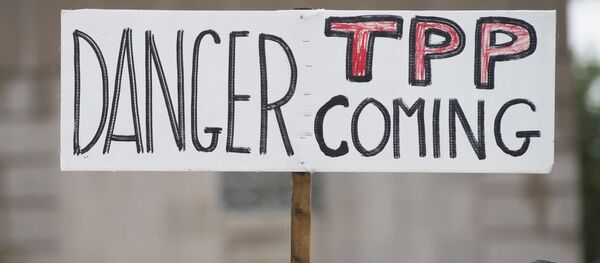 7 November 2015, 14:56 GMT
The supply management scheme has been in place since the mid-60s in order to protect Canadian agricultural sectors from larger US corporations.
As a result, Dr Charlebois says the local industries have become complacent and inefficient, and would not be able to survive under the TPP if it was implemented immediately.
He says that while some reforms are needed, the changes must be implemented in a fashion that allows local industries to adapt.
"Overnight if we were to eliminate tariffs on imports, we would likely see the dairy sector in Canada, and perhaps the poultry and egg sectors, collapse overnight. We're just not competitive so we need to give it some time for these sectors to adapt and change their modus operandi to make sure they do become more productive and efficient over the next 15 years or so."
He told Sputnik that a large majority of Canada's 12,000 dairy farms could be put out of business.
"If we do this right, I suspect we can actually preserve most of the dairy farms in Canada.
"The problem is that if we implement these changes too quickly, we may actually jeopardize many of these farms and we may actually see a lot of farmers lose their operations."