MOSCOW (Sputnik) — A Russia-Iran deal to exchange Iranian crude oil for Russian goods and equipment is in effect, but a drop in global oil prices is preventing its use, Russian trade envoy to Iran Andrei Lugansky said Tuesday.
"Oil has cheapened from the time [the deal] was signed, this has become an objective obstacle to sell Iranian oil to any market. The program works, but so far with no results," Lugansky told RIA Novosti in an interview.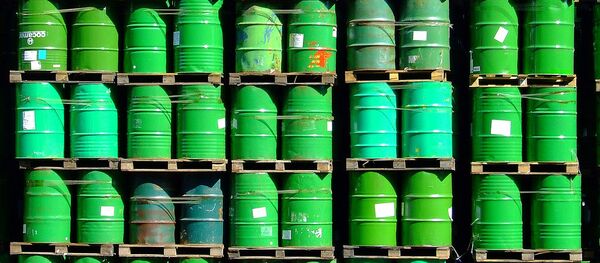 3 November 2015, 13:30 GMT
On October 21, Russia and Iran discussed oil and gas swaps between the countries, as well as power plant construction and electricity transition and distribution.
Global oil prices have dropped significantly since summer 2014, falling from $100 to under $50 per barrel for Brent crude, primarily as a result of global oversupply.
Russian trucks are "in great demand" in Iran, with the country requiring orders totaling an estimated $20 billion, Andrei Lugansky said.
"Examples of Russian trucks have been already delivered to Iran. These trucks are sold not only in Iran but worldwide. Our trucks are in great demand in Iran," he said, adding that "it stands at $20 billion in money terms."
According to the Russian trade representative, many companies in Iran's transport industry are privately run, and therefore unable to afford costly maintenance.
Lugansky added that clients could perform necessary maintenance on Russian trucks on their own, as the vehicles were designed to function independent of factory service.