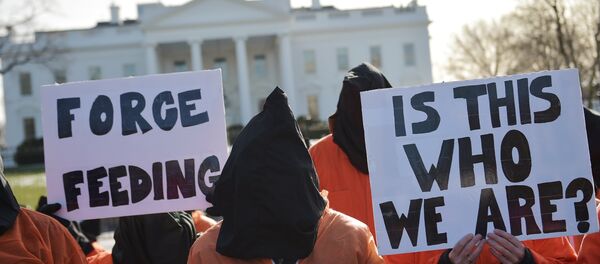 10 November 2015, 00:52 GMT
MOSCOW (Sputnik) – The 280-page document, entitled the Human Rights Situation of Detainees at Guantanamo, also urges the US authorities to thoroughly investigate any human rights breaches, including torture and other harsh, inhuman or humiliating treatment that may have been committed at the facility.
"As Director of ODIHR, I strongly welcome United States President Barack Obama administration's intention to develop a concrete plan to close down the detention facility at Guantanamo Bay," Michael Georg Link was quoted as saying in the press release that accompanied the report.
According to him, the protracted custody without charge or trial of individuals arrested in international armed conflicts violates the prohibition of arbitrary detention.
"No person should be subject to indefinite detention without trial. As one of the oldest democracies in the OSCE, the United States of America should lead by example, by making it crystal clear that everyone has the right to a fair trial. The detainees should either be charged or released," he stressed.
The report relies on interviews with US government officials, military and civilian lawyers, non-governmental organizations and former detainees.