"Our troops carried out concentrated strikes on terrorist groups and command posts on the outskirts of the city of Daraa. Terrorists suffered heavy losses in manpower and equipment; command centers were destroyed," Brigadier General Ali Mayhoub said.
The Syrian general added that a terrorists' offensive in the province of Daraa was prevented.
Dozens of terrorists were eliminated after they had attempted to attack an airport in Deir ez-Zor, Ali Mayhoub said.
"The defenders of the Deir ez-Zor airport thwarted a terrorist attack on the eastern part of the airport. Dozens of militants were killed and 10 vehicles armed with machine-guns were destroyed," Brigadier General Ali Mayhoub told reporters.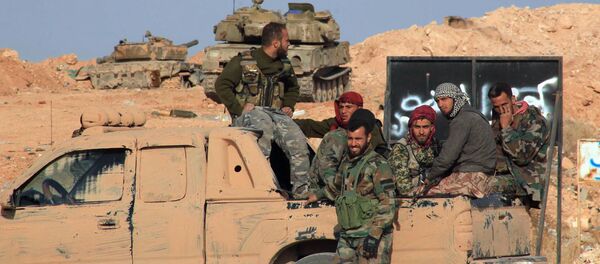 10 November 2015, 16:03 GMT
Moreover, the Syrian government forces have liberated villages in the provinces of Aleppo and Latakia, including near the Kweiris airport.
The Syrian Armed Forces broke a two-year ISIL siege of the Kweiris airbase in the Aleppo province on Tuesday with the assistance of the Russian aviation.
The Kweiris airbase is of strategic importance, being considered the frontline of the Syrian army in the northern parts of the Arab state near its border with Turkey.
"After heavy fighting, our armed forces have liberated the Kweiris airport and nearby populated areas; terrorists suffer heavy losses."
Moreover, the Syrian army continued to advance in the Latakia province, the general said.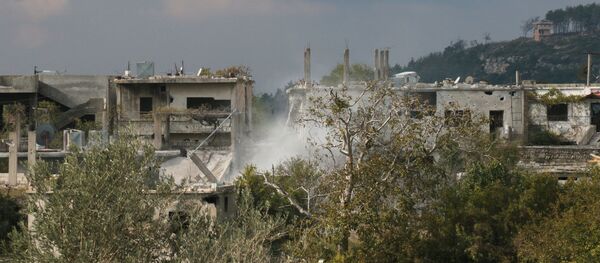 9 November 2015, 09:16 GMT
"In the northeast of the province of Latakia, our troops continue operations in the mountains and have established control over a number of strategic heights, destroyed fortifications and artillery positions of terrorists".
The Syrian Air Forces have carried out 75 sorties, hitting 150 terrorist targets in the north, center and the south of the country over the past 48 hours, he said.
"In particular, some 20 vehicles with ISIL terrorists were destroyed near Palmyra. Three ISIL command centers were destroyed to the southwest of the Kweiris airbase near Aleppo. Fifteen vehicles with terrorists in the Aleppo province and positions of the Nusra Front terrorist group were destroyed in the province of Hama."
The Syrian governments forces have also eliminated dozens of ISIL and Nusra Front terrorists in the provinces of Hama and Homs, Ali Mayhoub said.
"The efforts of our troops are focused on the fight against ISIL and Nusra Front [terrorist] groups in the north and east of the province of Homs."
Moreover, the Syrian army has also continued to advance in Eastern Ghouta on the outskirts of Damascus and established control over a highway in the area.