MOSCOW (Sputnik), Yulia Shamporova – The French port city of Calais, hosting to thousands of refugees, cannot cope with the migration crisis due to a lack of support from the government, Deputy Mayor Philippe Mignonet told Sputnik on Thursday.
"The city of Calais through its mayor, Natacha Bouchart, is trying its best to reduce the negative impacts of the situation but as a city we have neither the power nor the finances to do more, where the state is doing only bits and pieces to clear their mind," Mignonet said.
Four nights of ongoing clashes between migrants and Calais police took place from Sunday to Wednesday. The most violent Sunday night clashes saw at least 26 officers injured in a stand-off with rock-throwing refugees, media reported.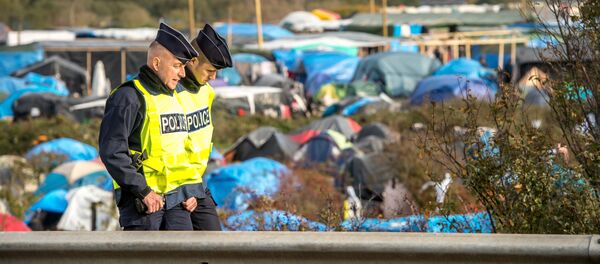 9 November 2015, 14:00 GMT
"The situation has been better last night even if some migrants again tried to jump into trucks. They've been pulled away by the police forces," Mignonet added.
He stressed that the refugee crisis in Calais proves that the French government has lost control of the situation.
At the same time, police in Calais cannot properly do their job during migrant skirmishes fearing their actions, filmed by activists, might be misinterpreted.
"The police forces are not given the power to do their job because activists are filming everything and everybody is scarred that some images could be taken out of the context," Mignonet said.
The French port city of Calais, hosting thousands of refugees in its so-called Jungle refugee camp, has seen numerous clashes with its temporary residents in recent days, and as a result at least 26 Calais police officers have been injured, according to media reports.
"The city of Calais needs help but nobody cares about a small city at the top north of the country," Mignonet added.
Calais has seen tens of thousands of attempts by refugees to cross the Channel Tunnel to the United Kingdom in recent months, several resulting in death and heavy traffic disruption.