"I would literally shoot [Putin's] planes down if he attacked the people we trained because we have to do that," he told AM 970 The Answer.
@chucktodd remind Lindsey Graham that if we "take care of Assad" then we're responsible for what happens in Syria afterwards

— Doremus Jessup (@DoremusJ) 4 ноября 2015
In other words, the Senator, who is still harboring hopes of becoming America's next commander-in-chief, believes that a country unauthorized to operate in Syria's airspace has a right to shoot down military planes of a nation which was officially asked to assist Damascus-led forces in their fight against radicals trying to overthrow Bashar al-Assad. And to what end?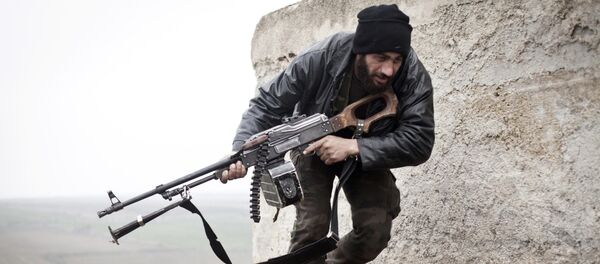 12 November 2015, 10:57 GMT
Relations between the US and Russia are at an all-time low prompting many to call this era the "Cold War 2.0." An incident in the Syrian skies would have unpredictable and extremely grave consequences. Shooting a Russian military aircraft means taking a huge leap towards a major (possibly military) confrontation.   
It is a good thing then that Graham's poll standings are so low that he has virtually no chance of moving to the White House in 2017. The Senator even failed to qualify for any GOP debate held on November 10.
What is worrying is that other Republican hopefuls essentially share Graham's stance on the issue. Marco Rubio, Chris Christie and others never fail to stress that they will act tough when it comes to countering Putin.
GOP criticizing Obama for sending troops to Syria? Isn't that what said they wanted? That's basically been Lindsey Graham's entire campaign.

— Nani (@NaniWaialeale) 31 октября 2015
"Syria hawks are prepared to risk conflict with Russia to defend proxies in a civil war in which the US has nothing at stake. Even by the usual standards of interventionist hubris, this is remarkably dangerous for the US. It is also completely unnecessary," Daniel Larison wrote for the American Conservative in response to Graham's remarks.
Larison went even further by saying that the White House should not have supported any side in the Syrian conflict. After all, many doubt that so-called moderate rebels even exist judging from the goals they profess, the methods they use and the values they hold on to.
"The US blundered by taking sides in Syria, but it would be guilty of a far greater wrong if it used that blunder to justify risking a war with a major power," he noted. "Indeed, the whole point of supplying proxies with weapons rather than intervening directly is to limit the risks and costs for the US, but hawks in Washington are easy eager to find a way to increase both," Larison lamented.
One could only hope that when election campaign is over, whoever becomes the 45th President of the United States will be considerably more rational than they appear at the moment.
© Sputnik
Russian air strikes against Islamic State militants in Syria

Russian air strikes against Islamic State militants in Syria