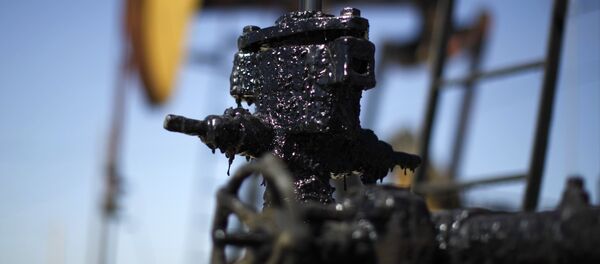 10 November 2015, 19:52 GMT
The plan to create a Russian oil benchmark has been in the making for several years. Currently, Russian-produced Urals and ESPO (crude transported through the ESPO pipeline) is traded cheaper against Brent due to the lack of a transparent pricing mechanism and guarantees of delivery.
According to Russian officials, Russian benchmark crude would make domestic-produced oil grades more liquid and expensive.
To be recognized as benchmark in the international market, Russian crude has to meet the following three requirements.  It has to be traded at clear and transparent prices; its deliveries have to be guaranteed; the trading volume has to reach not less than 10-15 million tons per year, or three million barrels a day.
The Russian Energy Minister expects that the first trading would take place before the end of 2015 or in the first half of 2016. Russian Urals or ESPO – the Ministry has not decided yet.
As for now, general rules have been elaborated to trade Russian oil on the St. Petersburg International Mercantile Exchange (SPIMEX), RBK reported.
The project presumed trading futures contracts on Russian crude with delivery guarantees. As a result, a market mechanism of pricing for Russian oil would form, with no dependence on foreign-produced crude benchmarks.
First off, the new mechanism will be good for Russian-based oil companies which could trade oil at higher prices, Vyacheslav Mischenko, Senior Deputy Director of Argus Media, told Sputnik.

12 November 2015, 12:58 GMT
What is for buyers, it will be in demand by small trading companies which have no contracts with major Russian oil producers.
Mischenko underscored that in order to guarantee the oil deliver the facilities of state-owned Transneft could be used.
"The point is that a new mechanism will be created. Not all Russian oil, but some amounts of it will be traded on the stock exchange," he said.
"The main goal is to make the Russia Urals oil a reference brand. Currently, the price for Urals depends on Brent quotes. Russian-produced oil, including Urals, is key in supplies to the European market and to Mediterranean region, so it could be a reference one," Mischenko explained.
He also expressed confidence that over time ruble contracts for Russian oil would challenge contracts in dollars.
"Now, Brent trading volumes has declined. It is not good that pricing in the oil market depends on Brent that is not much physically represented in the market," Vladimir Feigin, head of the Institute for Energy and Finance, told Sputnik.
"The new mechanism is aimed at trading oil futures, with guarantees of delivery. If it is comfortable for market players, the mechanism would play a significant role in the market," he added.