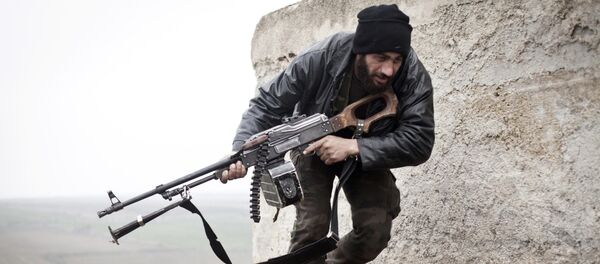 11 November 2015, 18:58 GMT
The Syrian Army and National Defense Forces (NDF) have already regained control over the village of Nawleh near the Marj al-Sultan Airbase, having killed a large number of terrorists.
"The pro-government forces are now in control of 80 percent of the territories south of the strategic airport," a military source told FARS News on Tuesday.
On Tuesday, Syrian forces continued their offensive against the Takfiri terrorists in Eastern Ghouta and took control over strategic areas from militants.
The Syrian Army took full control over al-Mahalej area, to the south of the Marj al-Sultan Airbase, according to a source.
Earlier, the Syrian Army lifted the siege of the Kweiris military airbase.
The Kweiris airbase was under ISIL siege for two years until the Syrian Army supported by Russian airstrikes advanced into the area and cleared it of jihadists, leaving a large number of them dead and wounded in the process.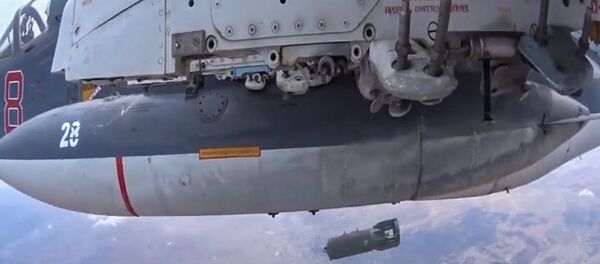 9 November 2015, 14:21 GMT
The Syrian Army, the NDF and Hezbollah combatants backed by Russian warplanes launched a joint offensive against ISIL terrorists in Eastern Alleppo near the Kuweiris base on Tuesday. They took full control over the strategic Aleppo-Raqqa highway.
Then, Syrian and Russian warplanes targeted the last ISIL strongholds around the airbase.
Syria has been engulfed in a civil war since 2011, with the Syrian Army fighting a number of opposition factions and radical Islamist groups, including ISIL and the al-Nusra Front.
On September 30, Russia launched airstrikes against ISIL positions in Syria at the request of President Bashar al-Assad.