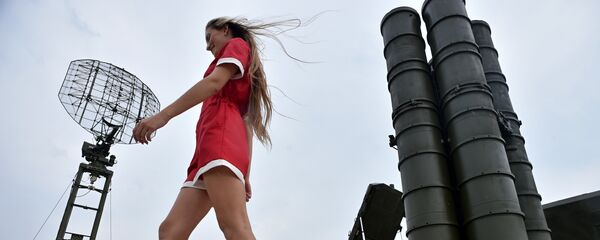 11 November 2015, 06:30 GMT
HMEYMIM AIRBASE (Sputnik) — British Daily Mail claimed Thursday that Russia had allegedly deployed advanced S-400 air defense system (NATO codename SA-21 Growler) at the Hmeymim airbase in the Latakia province, posting a photo of an air defense system described as an S-400.
The S-400 Triumph is an air defense missile system, which integrates a multifunction radar, autonomous detection and targeting systems, anti-aircraft missile systems, launchers, and command and control center. It is capable of firing different three types of missiles capable of destroying aerial targets at short-to-extremely long range.
"You had the opportunity to see everything here with your own eyes…There are no S-400s here, and never have been," Maj. Gen. Igor Konashenkov told foreign reporters who are on a press tour around the Hmeymim base where the Russian air group is stationed.
The Hmeymim airbase is located in the Latakia province of Syria, where Russian forces taking part in the military operation against ISIL are currently stationed.
"Before attempting to scare the British public and the world with the deployment of our S-400 air defense system here, they should have consulted Wikipedia or the site of the Russian defense ministry as to how this system looks like," Konashenkov added.