MANILA (Sputnik), Anastasia Levchenko — Leaders of 21 the Asia-Pacific Economic Cooperation (APEC) member states will meet in Manila on November 18-19. China is expected to challenge the US-led Trans-Pacific Partnership (TPP), by promoting the Free Trade Area of the Asia-Pacific (FTAAP) that would include all APEC members, unlike TPP which would comprise only 12 Pacific Rim nations.
"All APEC members have agreed to FTAAP, including the US. I do not think it will harm the US interests in Asia-Pacific," Pedrosa said adding that "anything that reduces barriers for entry of the US goods to China will be welcomed."
According to Eduardo Pedrosa, the potential effect from FTAAP could amount to some $3 trillion, a significantly higher number than the TPP's expected benefits of about $250 billion.
"FTAAP that includes everyone has enormous benefits for all," Pedrosa stressed.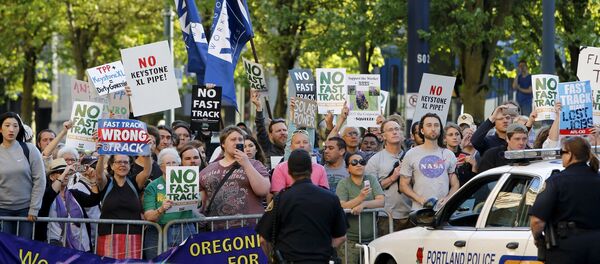 13 November 2015, 11:16 GMT
Eduardo Pedrosa thinks that lack of political will is the main obstacle to create the area of deregulated trade that would include all the 21 economies of the Asia-Pacific Economic Cooperation (APEC).
"There are many obstacles to create the FTAAP. The main one is the political will. Within any country there are groups that do not necessarily favour signing of the free trade zones," Pedrosa said.
He added that to join trade deals, a country must carry out structural reforms first, acknowledging that it is a very complex process.
"Trade policies should be seen as part of the overall development policies.  It's a question of how do you develop your country, create jobs and stay competitive," Pedrosa stressed.
"Senior APEC officials have been doing the legal [reviewing] of the TPP text. I don't think any members will join the TPP during this meeting, but I am sure they will present the interest again to the TPP, as they want to understand what the implications are, and where their own domestic agendas come," Pedrosa said.
On October 5, the TPP negotiating countries reached an agreement on the wording and subject matter of the hotly-debated deal. The TPP would deregulate trade among the signatories, which together make up 40 percent of the world economy.
The unusual secrecy surrounding the TPP negotiations, and the uncertain implications of the deal for workers' rights, national sovereignty, employment, copyright and the environment have drawn strong criticism from lawmakers, economics experts and the public.
PECC is an international organization for promoting cooperation and dialogue in the Asia-Pacific region. Comprising 26 member committees, it is the only non-governmental official observer of APEC, providing business and research advice for regional policy-makers.