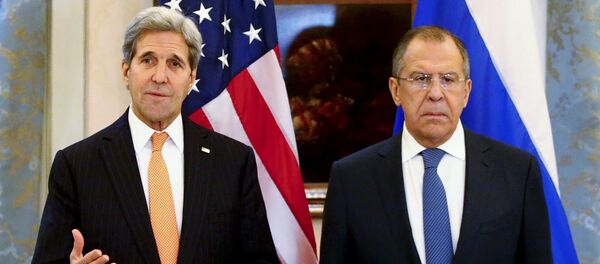 14 November 2015, 10:41 GMT
A group of militant jihadists struck several restaurants and entertainment venues in Paris during the evening of Friday the 13th, leaving at least 127 people dead and the country in shock; the gruesome tragedy was captured in real time via amateur video.
A video that was taken inside Stade de France stadium in suburban Paris during the France-Germany soccer match that was taking place at the time captures the moment when a bomb exploded outside the facility during one of Friday's attacks.
French President Francois Hollander, who was evacuated from the stadium after the first bomb was detonated immediately outside, has already denounced the Friday attacks as an "act of war", which he claimed was staged by the Islamic State.
The Bataclan concert hall siege left at least 100 people dead and dozens more injured. The massacre became the bloodiest of the evening's six simultaneous attacks.
This video shows people fleeing the Bataclan concert hall where the hostage situation was unfolding.
Another shot showed policemen start storming the building, apparently using staircases to break into the facility.
In a separate video, forensic experts inspect a suicide bomber's body outside the cafe "Comptoir Voltaire".
One of the survivors of the Paris terror attacks minced no words when describing the massacre in which he was wounded.
There were lucky moments, too. This man explains how his mobile phone saved him from being hit in the head by flying shrapnel during an explosion outside the Stade de France stadium.
President Hollande has, meanwhile, said that he had signed a decree declaring a national three-day period of mourning and that he would address parliament, which will convene for an extraordinary meeting in Versailles within several hours.