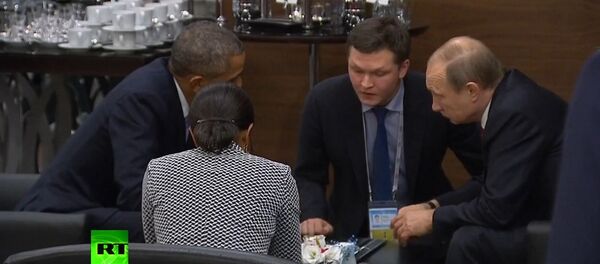 15 November 2015, 14:32 GMT
Russian President Vladimir Putin and US President Barack Obama agreed on the need for a ceasefire in Syria and UN-brokered talks between the conflicting parties, the White House said Sunday.
Earlier today, the two presidents held informal talks on the sidelines of the G20 summit in Turkey's Antalya.
"President Obama and President Putin agreed on the need for a Syrian-led and Syrian-owned political transition, which would be proceeded by UN-mediated negotiations between the Syrian opposition and regime as well as a ceasefire," the White House statement reads.
Obama welcomed efforts by all countries in confronting Islamic State, noting the importance of Russia's military efforts in Syria focusing on the group, the statement reads.
The Kremlin was also positive about the talks, with Putin's aide Yury Ushakov saying that Russia and the US have similar strategic objectives in the fight against terrorism, though there are differences in tactics.
"It was an opportunity to talk quite thoroughly and the discussion was focused on two topics – at the beginning on Syria, and then on Ukraine," Ushakov told reporters adding that more time was devoted to Syria.
In addition, President Obama offered his condolences over last month's crash of a Russian airliner in Egypt resulting in the death of 224 people, the White House said in its statement.