KIEV (Sputnik) — Ukrainian President Petro Poroshenko said on Sunday that the country faced new threats from people linked to Islamic terrorist groups.
Earlier in the day, Ukrainian Interior Minister Arsen Avakov said the country's security forces had received reports about the preparation of terrorist attacks in several major cities across Ukraine, including Kiev, Dnipropetrovsk, Lviv and Kharkiv.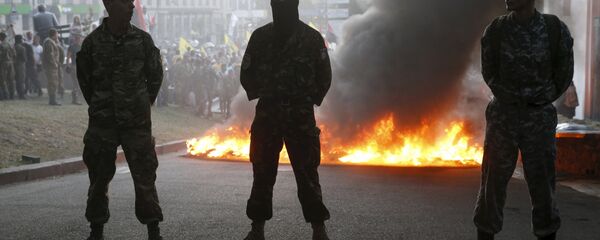 17 September 2015, 17:42 GMT
"The new threats have just appeared. Following the devastating attacks in Paris, we have received information about possible links of Islamic terrorists with those who are now in Ukraine, and yesterday I gave absolutely clear orders to review risks and threats in cooperation with our international partners to protect peace and security in Ukraine," Poroshenko told a press briefing.
For at least two weeks, Ukrainian law enforcement will be on on heightened alert to prevent terrorist attacks, the president added.
On Friday night, eight extremists wearing explosive belts attacked several venues across Paris, killing 129 people and injuring over 350 at restaurants, the Bataclan concert hall and in the vicinity of the Stade de France stadium. Responsibility for the attacks was claimed by the Islamic State (IS) militant group, operating in Syria and Iraq.