"Let me underline, the profile of the terrorists so far identified tells us this is an internal threat," Federica Mogherini, the High Representative for Foreign Affairs and Security Policy/Vice-President of the European Commission, said after a meeting with EU foreign ministers.
"It is all EU citizens so far. This can change with the hours, but so far it is quite clear it is an issue of internal domestic security."
Indeed, the attackers identified appear to be either French or Belgian nationals. While some had traveled to Syria to fight with the Islamic State at some point, they were the sort of returnees the Western intelligence community has been warning about – Western nationals with access that most jihadists simply would not have, Antiwar.com reported.
"And European Union officials have been quite clear on this," writes Max Fisher, of Vox. "The lesson from Paris is that Europe has an internal security problem. Not a problem with terrorists sneaking in among refugees."
"If [the United States] wanted to deal with the threat of potential terrorism by shutting out certain national groups – we shouldn't, but if we did – then it would make far, far more sense to refuse French and Belgian visitors than Syrians."
One of the attackers was found with a Syrian passport, spreading fear across Europe and the United States that Islamic militants could slip in with refugees to gain access to the West. As a result, several officials have insisted on suspending their acceptance of Syrian refugees in their regions.
While Greek authorities say someone with that passport did recently enter Greece through an island that is a frequent refugee landing spot, French officials have found that the passport is a fake.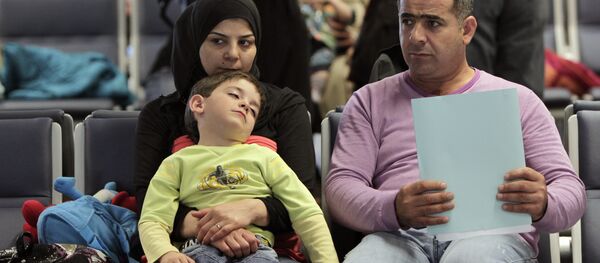 17 November 2015, 01:05 GMT
Thomas de Maiziere, the German interior minister, suggested on Tuesday that the passport might be a "false trail" placed deliberately by the Islamic State attackers to turn public opinion against Syrian refugees, the New York Times reported.
As of Tuesday, 28 US governors, mostly Republicans, have said they will not allow any new Syrian refugees to resettle in their states due to concerns that IS militants could blend in among refugees.
Of the more than 2,100 Syrian refugees accepted by the United States since 2012 – most of them in the past year – half are children, 25% are adults over 60 years old and only 2% are young males at what officials called "combat age," the Washington Post reported.
President Barack Obama on Monday said he remains committed to his administration's plan to accept 10,000 refugees this year alone.