Russia's President Vladimir Putin ordered the Moskva missile cruiser stationed in the Mediterranean Sea to establish contact with a French naval group which will soon arrive in the area.
"A French naval group led by an aircraft carrier will soon enter your area of operations," Vladimir Putin old Oleg Krivorog, who heads the Russian naval unit protecting the airbase in Syria hosting Russian warplanes. "It is necessary to establish direct contact with the French and work with them as allies."
"The chief of general staff and the defense minister have received relevant instructions. We must work out a plan for joint actions both at sea and in the air," the president continued.
Earlier on Tuesday, General Staff chief Gen. Valery Gerasimov that Russia's Forces launched 34 cruise missiles during the strike on the terrorist targets in Syria.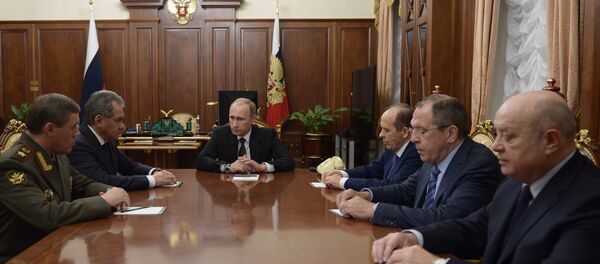 17 November 2015, 08:40 GMT
In a telephone conversation, Vladimir Putin and Francois Hollande agreed to ensure military and intelligence cooperation between Russia and France. The two leaders also agreed to meet during Hollande's visit to Moscow November 26.
"To continue personal dialogue on the fight against terrorism as well as other relevant topics during a meeting in Moscow on November 26," according to statement made by the Kremilin.
Hollande, who skipped the weekend's G20 summit due to the Paris attacks, said Monday that he would meet with the leaders of Russia and the United States to discuss joining forces against terrorism. The French leader is set hold talks with US President Barack Obama in Washington on November 24.