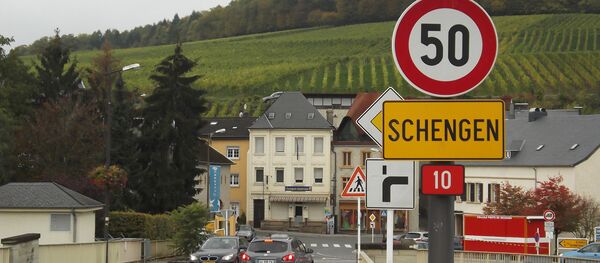 15 November 2015, 10:53 GMT
PARIS (Sputnik) — Europe must take additional measures to control external borders, otherwise the Schengen Zone may collapse, French Prime Minister Manuel Valls said Tuesday.
"Solid external borders are necessary to counter terrorism, smuggling, illegal migration. Otherwise, the Schengen area will collapse and Europe will collapse," Valls told France Inter radio station.
Earlier this week, French President Francois Hollande, in speaking to Congress, said that it was necessary to completely overhaul EU border security policies. According to Hollande, it is also necessary to implement a so-called passenger name record (PNR) system to allow for the monitoring of jihadist arrivals in the country in order that they may be detained.

14 November 2015, 18:46 GMT
Hollande noted that these topics would be discussed on November 20 during an extraordinary meeting of interior ministers of EU member states which will take place at Paris' request.
The statements came following the November 13 terrorist attacks in Paris, when several extremists carrying automatic weapons and wearing explosive belts executed a series of coordinated attacks at venues across Paris, killing some 130 people and injuring over 350, at restaurants, the Bataclan concert hall and in the vicinity of the Stade de France stadium.