MOSCOW (Sputnik) — Russian and Indian troops participated in the final stage of a counter-terrorist operation in which simulated terrorist group bases were destroyed, during the Indra-2015 drills in northern India's Mahajan firing range, Russia's Southern Military District press service said in a statement on Wednesday.
"The Indra drills joint staff has decided to destroy simulated illegal armed groups with the involvement battalion tactical groups of Russian and Indian armed forces," the statement reads.
According to the press service, motorized and infantry groups broke the resistance of a simulated enemy using grenade launchers, followed by assault units that cleared settlements. The Indra-2015 drills ended with a liberation of residents from simulated armed terrorists.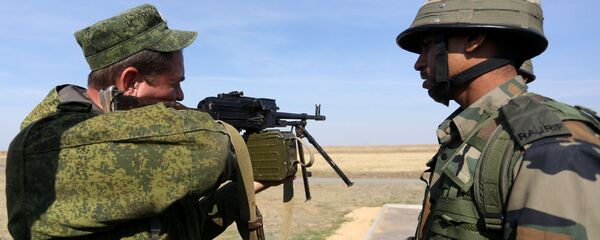 13 November 2015, 10:12 GMT
The joint Indra-2015 military drills on countering international terrorism are taking place in India on November 7-20 with a focus on a so-called Counter-Terrorism Operations in Desert Terrain under a UN mandate.
According to the Russian Southern Military District, up to 250 troops from each side are participating in the drills.