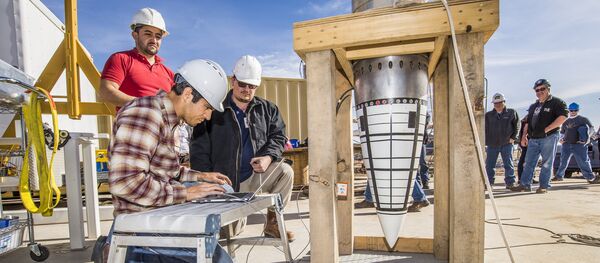 17 November 2015, 06:49 GMT
The US completed the final test of the upgraded B61-12, but with no highly enriched uranium or plutonium warhead.
The test was conducted from an F-15E bomber at Tonopah Test Range in Nevada on October 20, according to the National Nuclear Security Administration (NNSA). The agency underscored that the bomb "demonstrated successful performance in a realistic guided flight environment."
"Completing this guided B61-12 flight test provides additional evidence of the nation's continued commitment to our nation's security and that of our allies and partners," the NNSA said in a press release.
Earlier it was reported that the Pentagon plans to deploy 20 B61-12 bombs to the Buchel Air Base in Germany.
The B61-12 is another modernized version of the B61 bomb developed in the middle of the 1960s. According to Russian military analyst Viktor Murakhovsky, the bomb has some significant differences from the previous version.
"The bomb has two key differences. It has the so-called scalable nuclear yield which allows for controlling the yield to a certain extent. In addition, its aerodynamic configuration and control surface makes the bomb extremely high-precision. The previous versions were developed several decades ago. Since nuclear warheads have limited operational time they need to be replaced from time to time. With the new bomb, the US has incorporated high-precision developments with the scalable nuclear yield technology," Murakhovsky told Radio Sputnik.
Deployment of nuclear weapons outside national territories along with the concept of nuclear weapons sharing violates the Treaty on the Non-Proliferation of Nuclear Weapons, the Russian Foreign Ministry noted.
According to Murakhovksy, the US ignores Russia's stance on the issue.
"The US nuclear strategy and the US National Military Strategy presume the so-called struggle at front lines. The US has more military bases than any other country. A significant number of US forces are deployed overseas. Russia has repeatedly told the US to bring home its nuclear weapons before further talks on the reduction of nuclear weapons. Russia has brought back all its tactical nuclear arms on its territory and does not deploy them abroad. Unfortunately, the US does not follow our example and would continue to deploy nuclear weapons to Western Europe, South Korea and, according to certain data, to Japan. This is the strategy," the analyst said.