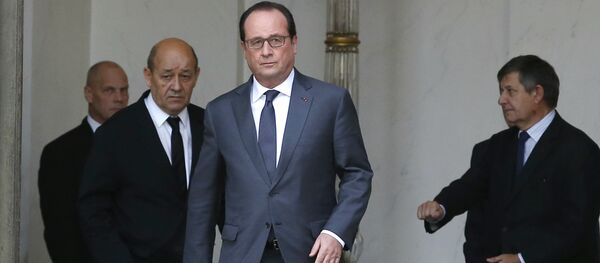 18 November 2015, 12:23 GMT
PARIS (Sputnik) — The US intelligence data, provided to France after Paris attacks, allowed the French military to intensify airstrikes on Islamic State (ISIL) militants in Syria, French Defense Minister Jean-Yves Le Drian said Wednesday.
On Monday, following the Friday deadly attacks in Paris, US Department of Defense spokesman Peter Cook announced that the United States would increase intelligence sharing with France.
"The change of the US position, which has opened to us a much wider access to its intelligence capabilities, allowed to intensify the actions of our aircraft conducting airstrikes on Islamic State positions," Le Drian said, speaking in the lower house of the French parliament.
The Islamic State claimed responsibility for terrorist attacks in Paris that killed 129 people and left more than 350 wounded.
France has vowed retaliation and launched airstrikes on ISIL positions in the area of Raqqa in Syria over the weekend.
A US-led 65-nation coalition, which includes France, has been conducting airstrikes against ISIL positions in Iraq and Syria since 2014.