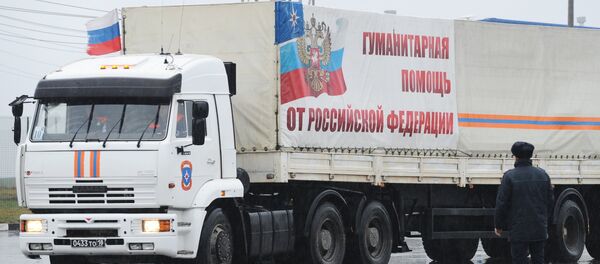 12 November 2015, 01:44 GMT
MOSCOW (Sputnik) – The 45th humanitarian aid convoy that the Russian Emergencies Ministry has prepared for residents of Ukraine's crisis-hit southeastern regions (Donbass) left the Donskoy rescue center in Russia early on Thursday, a ministry representative told journalists.
"There are over 100 vehicles in the convoy that are carrying over 1,100 tonnes of humanitarian cargo, mostly food," the representative said, adding that the convoy is heading for the Russia-Ukraine border.
About half of the aid will go to Ukraine's Donetsk region, while the other half will be sent to the Lugansk region.
The regions have been severely affected by Kiev's special military operation, launched in Donbass in April 2014. The operation was a response to local residents' refusal to recognize the new coup-installed government in the country.
Overall, Russia has delivered more than 53,500 metric tons (tonnes) of humanitarian aid to Donbass since August 2014.