PARIS (Sputnik) – Paris is hosting the 19th Milipol Worldwide Exhibition of Internal State Security on November 17-20. YUTTA is among 13 Russian firms exhibiting products.
"We have a device that can remotely detect a suicide belt called 'Anker-R.' This prototype is capable of identifying the suicide belt on a person at a distance of five to six meters [16-19 feet]," YUTTA Chief Executive Vladimir Tkach told RIA Novosti late Thursday.
The gadget – a portable flat screen with wireless headphones – hunts down its target via an electromagnetic field emitted by the suicide belt's explosives.
The invention is estimated to be retailed at the equivalent of $1,500.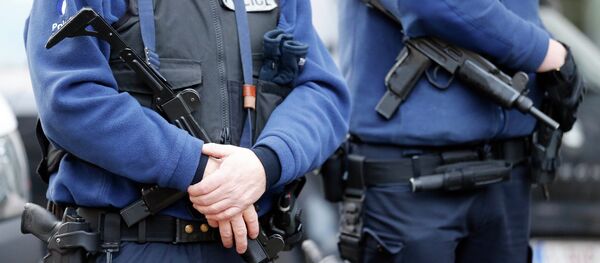 19 November 2015, 20:32 GMT
Tkach noted that the device is unable to detect shell-less explosives inside the belts, but claimed that the majority of these belts use explosives to provide a maximum destructive capability.
Tkach said Egyptian visitors to Milipol had expressed interest in the new device.
Security arrangements at the event, a trade show to display weapons, armament and surveillance technologies marketed to governments for population control, were expanded following the November 13 coordinated terrorist attacks across several Paris venues that killed 129 and injured over 350.