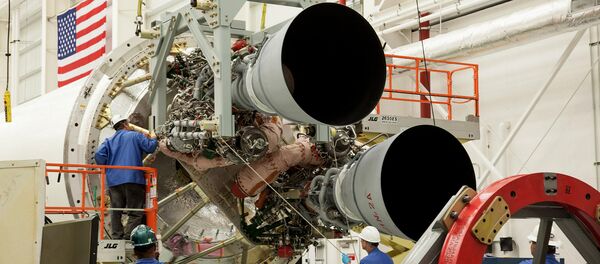 20 November 2015, 08:00 GMT
Senator Richard Shelby, a senior member of the Senate Appropriations Committee, plans to propose amendments to the federal spending bill that would allow United Launch Alliance (ULA), a joint venture between Boeing and Lockheed Martin, to keep buying RD-180 engines from Russia until a domestic alternative is available, Defense News reported, citing the Senator's office.
The Russian engines have powered dozens of ULA's satellite launches of military hardware over the past decade, but recent tensions with Russia and the emergence of a second launch company, California-based SpaceX — prompted Congress last year to push to phase out the RD-180 engines.
Congress has approved a defense authorization bill that would allow ULA to buy a maximum of four more Russian engines beyond its current allotment. ULA chief Tory Bruno has said that could mean the company will run out of the engines by 2019, up to three years before a rocket powered by domestic engines now being developed by aerospace company Blue Origin is ready to compete.
The result, he said, could be the same monopolistic environment the Pentagon wants to eliminate, with SpaceX instead of ULA handling all the launches.
According to US the Air Force, America needs up to 18 additional RD-180 engines through 2022 "to prevent interruptions in the satellite launch schedule," Defense News reported.