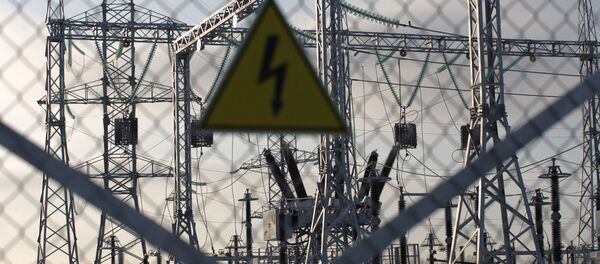 21 November 2015, 23:15 GMT
The city of Sevastopol has begun using its own power generation after what Ukrainian authorities have called an accident led 1.9 million people to lose power in Russia's Crimean peninsula overnight on Sunday.
The entire peninsula lost its electricity supply after a power line accident on the Ukrainian side of the border caused the entire peninsula to lose power. Crimea and Sevastopol were part of Ukraine until 2014, when the residents of the two territories voted to become part of Russia following an armed coup in mainland Ukraine.
One of the two power lines that supply Ukrainian energy to Crimea was damaged on Saturday, leading the peninsula to lose most of its power supply. The Ukrainian Interior Ministry later said that the power lines had been blown up.
"Sevastopol has partially renewed power supplies. The city has completely transferred to its own energy sources, gas turbine stations and diesel generators," the city's emergencies ministry administration said on Sunday morning.
The peninsula has enough fuel to last 29 days, according to the Russian energy ministry. The Ukrainian power utility Ukrenergo pledged to resume supplies after two days.
Russia is currently building an energy bridge to Crimea that is set to be put into operation before the end of the year.