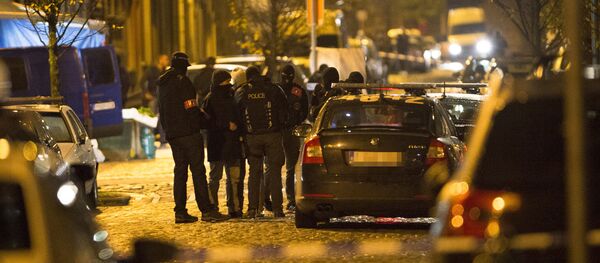 22 November 2015, 22:39 GMT
BRUSSELS (Sputnik)
–
Belgium does not rule out militarily joining international anti-terrorist efforts in Syria, Belgium's interior minister Jan Jambon said on Monday.
"I don't rule it out, but this must be done in a coalition approved by an international resolution," Jambon said live on the Belgian RTL channel, in response to a question regarding whether Belgium would take part in a military operation against the extremist Islamic State (ISIL) group in Syria.
The remarks come amid a lockdown and maximum terror alert in Brussels in the aftermath of the November 13 terrorist attacks in Paris and recent anti-terror intelligence data.
"It is clear that the root of the problem lays in Syria, and that is where decisions must take place," he said, adding that a decision on Belgium's military cooperation in the Middle Eastern country could be taken within days.
Belgium is part of a US-led international coalition, which has been fighting the Islamic State (ISIL) jihadist group in Syria and Iraq.
Belgium has not previously been involved in Syria while taking part in anti-ISIL operations in Iraq, conducting its first airstrikes in June 2014. Belgian soldiers were also sent to Iraq in February 2015 to train Iraq's army in fighting ISIL.
Russia has been carrying out airstrikes against extremist targets across Syria at the Syrian government's request since September 30.