Decrying ISIL as an 'evil death cult', Mr Cameron said that it is imperative that the UK join the fight in defeating them.
Speaking alongside French President Francois Hollande after talks in Paris, Mr Cameron said he backed Mr Hollande's bombing strikes on Syria.
"It is my firm conviction that Britain should do too."
France has been conducting airstrikes against ISIL targets in Syria since September 2014, as part of a US-led coalition.
Mr Cameron is expected to present a "comprehensive strategy" within the next few days. It could see British RAF jets taking part in bombing missions in Syria before Christmas. However, politically, Mr Cameron must tread carefully.
In August 2013, the government lost a House of Commons vote on UK military action in Syria.
Mr Cameron does not want a scenario where he is defeated twice by parliament on this key national security issue.
Despite his rallying call on Monday, he is unlikely to get the support of opposition leader Jeremy Corbyn, a former Chair of the Stop The War Coalition, an anti-war advocacy group.
In a speech to Labour activists last week, Mr Corbyn questioned whether increasing UK military intervention would be in the national security interest.
"The experience of Afghanistan, Iraq and Libya has convinced many of our own people that the elite's enthusiasm for endless military interventions has only multiplied the threats to us — while leaving death and destabilization in their wake."
He warned his fellow politicians not to be "drawn into responses that feed a cycle of violence and hate."
However, on Monday, his shadow defense secretary Maria Eagle said it was "her understanding" that it was "conceivable" that Labour MPs could vote for action.
In a potential breakthrough for Mr Cameron, the influential Foreign Affairs Committee, appears to have altered its position on whether the UK should join the campaign against Islamic State.
A month ago, the committee opposed airstrikes, saying there was no coherent international strategy.
However, on Friday, Chairman Crispin Blunt said that the world had changed. He cited the Paris attacks and the following diplomatic progress in Vienna, where a Syrian transition plan was agreed upon, including the previously sidelined interests of Russia, as indicating a stronger desire for global cooperation on the crisis:
"There has been a change in the position of the West in that it now seems to be willing to tolerate Assad staying during a political transition leading to elections in 18 months. It is a very fluid position but it also looks as if there will be a United Nations security council representation, so issues of legality are also addressed."
After the November 13 Paris attacks, there also appears to be growing public support for further military intervention against ISIL.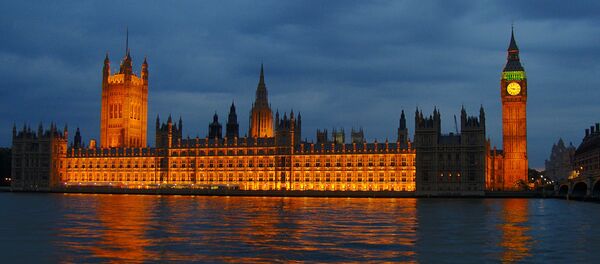 22 November 2015, 08:37 GMT
A poll by YouGov shows that 58 percent of Britons now approve of airstrikes on Syria, while 43 percent would like to see British and US "boots on the ground."
French President Mr Hollande will meet with Vladimir Putin, Barack Obama and Angela Merkel later this week.
Meanwhile, the United Nations Security Council has backed a French-drafted resolution urging countries to "combat by all means" the "unprecedented threat" of ISIL.