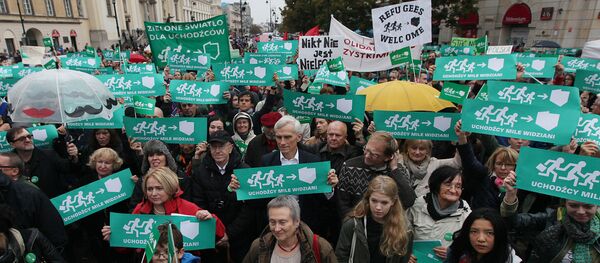 24 September 2015, 09:47 GMT
WARSAW (Sputnik)
–
The previous leadership in Poland was wrong to accept 7,000 refugees, Poland's newly elected Interior Minister Mariusz Blaszczak told local media on Monday.
Former Prime Minister Ewa Kopacz was formally succeeded by Beata Szydlo last Monday, November 16.
"The previous government's decision to accept 7,000 refugees was wrong," Blaszczak told Polskie Radio.
The Law and Justice party member outlined a no-compromise approach by the newly elected government.
"The most important thing for Prime Minister Beata Szydlo's office is the security of Poland and the Polish people," Blaszczak asserted.
Poland's European affairs minister-in-waiting at the time signaled a change in attitude toward the European Union's refugee redistribution plan two days before being sworn in.
At the interior minister session on September 22, Poland broke ranks with Hungary, Romania, Slovakia and the Czech Republic in voting for the European Union-wide refugee resettlement plan. Under the plan, some 160,000 refugees are to be distributed within the bloc over the next two years.
Frontex has estimated over 1.2 million illegal crossings into the European Union since the beginning of the year in what has become Europe's largest human migration since World War II.