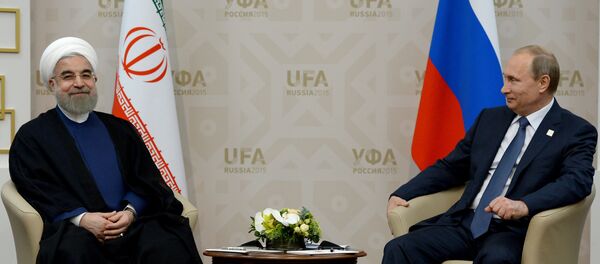 13 November 2015, 16:46 GMT
MOSCOW (Sputnik) — Russian President Vladimir Putin will meet with Supreme Leader of the Islamic Republic, Ali Khamenei, and President Hassan Rouhani in the framework of his visit to Tehran to participate in a Gas Exporting Countries Forum (GECF) summit on Monday, Russia's presidential aide Yuri Ushakov said.
"It is expected that during the talks the sides will exchange views on a whole range of issues of bilateral cooperation: trade and investment cooperation, nuclear energy, oil and gas, military-technical cooperation," Ushakov told reporters on Sunday.
According to Ushakov, the leaders will also discuss such issues as the settlement of the conflict in Syria, the implementation of the joint comprehensive action plan on Iran's nuclear program and the global fight against terrorism, with the Islamic State jihadist group in particular.
The priority on the agenda of the meeting will be the issue of increasing bilateral trade and economic cooperation, Ushakov said.
GECF is an international governmental organization of the world's leading gas producers. The member countries together account for 67 percent of the world's proven natural gas reserves.