Geopolitical analyst Tony Cartalucci draws attention to the fact that over the recent weeks Russian and Syrian forces have been steadily gaining ground in Syria, retaking territory from ISIL and al-Qaeda.
"The Syrian Arab Army (SAA) has even begun approaching the Euphrates River east of Aleppo, which would effectively cut off ISIS [ISIL] from its supply lines leading out of Turkish territory," Cartalucci narrates in his latest article for New Eastern Outlook.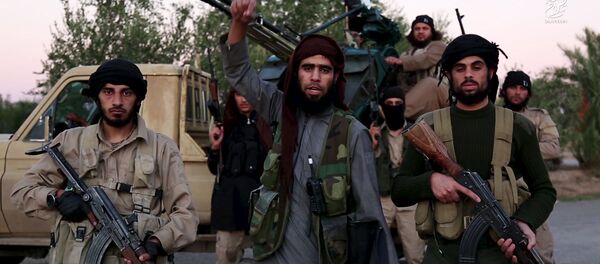 24 November 2015, 15:02 GMT
He explains that from there, Syrian troops with Russian air support would move north, into the very "safe zone" which Washington and Ankara have planned to carve out of Syria. Cartalucci points out that the "safe zone" includes a northern Syria area stretching from Jarabulus to Afrin and Al-Dana.
If Syrian troops establish their control over this zone, the Western plan of taking and holding the territory (with the prospect of further Balkanization of the region) would fall apart at the seams. In light of this, the regime change project, harbored by the West since the very beginning of the Syrian unrest, would be "indefinitely suspended," Cartalucci underscores.
"The endgame is at hand, and only the most desperate measures can hope to prevent Russia and Syria from finally securing Syria's borders. Turkey's provocation is just such a measure," he emphasizes.
"As in the game of chess, a player often seeks to provoke their opponent into a series of moves," Cartalucci notes.
Russia's been bombing a lot of ISIS oil tankers lately. Turkey must not be happy.

— Danielle Ryan (@DanielleRyanJ) 24 ноября 2015
​According to the geopolitical analyst, Russia's best choice now is to continue winning this war, eventually taking the Jarabulus-Afrin corridor. By fortifying this area Russian and Syrian forces would prevent NATO from invading Syria, at the same time cutting off the ISIL and al-Nusra Front supply route from Turkey.
​Russo-Syrian victory would have far-reaching consequences for the region as a whole.
"With Syria secured, an alternative arc of influence will exist within the Middle East, one that will inevitably work against Saudi and other Persian Gulf regimes' efforts in Yemen, and in a wider sense, begin the irreversible eviction of Western hegemony from the region," Cartalucci underscores.
— Buying ISIS oil?— Helping terrorists?— Trafficking migrants to EU?— Jailing journos? Time to boot Turkey from NATO/end EU accession?

— Raheem Kassam (@RaheemKassam) 24 ноября 2015
​He believes that it is the beginning of the end of the US-led unipolar global order.
The geopolitical analyst stresses that in a war emotions should be channeled by "superior strategic thinking" into a good plan which serves both short-term and long-term objectives. According to Cartalucci, the Russian leadership has repeatedly demonstrated its ability to take balanced strategic decisions.