The Russian General Staff said that two Mi-8s were involved in the operation to save the crew of the downed Su-24 bomber jet.    
One helicopter was shot down, its crew evacuated to the Russian base at Hmeymim.
"A search-and-rescue operation involving two Mi-8 helicopters was carried out, charged with evacuating the pilots from the landing site. During the operation, as a result of small-arms fire, one of the helicopters was damaged, and forced to make a landing on neutral territory. One naval infantry soldier of contract service was killed," Lieutenant-General Sergei Rudskoi, the head of the Main Operations Directorate of the General Staff of the Russian Armed Forces, told reporters on Tuesday.      
The officer noted that the "personnel from the search-and-rescue team and the helicopter's crew have been evacuated and are now located at the Hmeymim air base. The downed helicopter was destroyed by mortar fire from territory controlled by armed gangs."
"The search-and-rescue operation tasked with finding the crew of the downed Russian bomber continues," Rudskoi added, emphasizing that the territories in which the operation was conducted is believed to be controlled by radical rebel groups.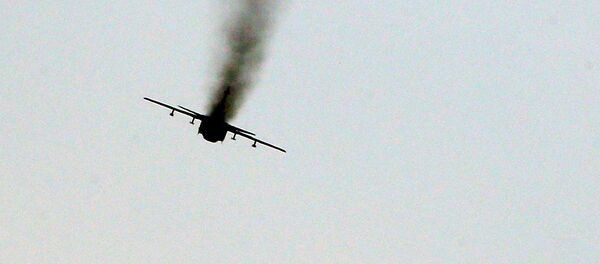 24 November 2015, 12:55 GMT
A Russian Su-24M Fencer jet crashed in Syria earlier in the day with two pilots aboard. Ankara claims that its F-16s shot down the plane because it violated the country's airspace. Russia has countered Turkey's accusations, President Vladimir Putin saying that the aircraft was 0.6 miles away from the Turkish border when it was shot down.
According to the Russian leader, the crashed aircraft was not posing any threat to Turkey when it was struck by an air-to-air missile from the Turkish jet.