Tim "Nailer" Foley, 56, is simply terrified of immigrants. He leads a band of men (with nothing better to do?) who call themselves the Arizona Border Recon. They've been dressing up in military garb and playing Border Patrol to make sure nobody crosses the border from Mexico.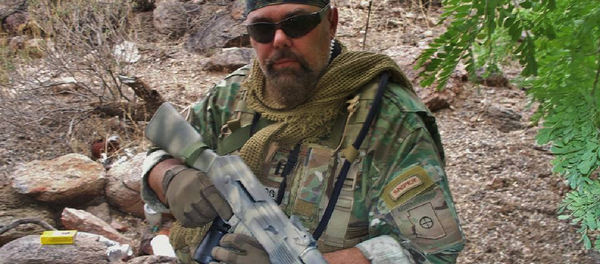 17 August 2015, 02:08 GMT
Foley lost his construction job several years ago, leading to a foreclosure on his home, and his situation was made worse by a divorce. He blamed Mexican immigrants for the loss of his job so he began patrolling the borders.
Following the Paris attacks on November 11, in which 130 people were killed in a series of explosions and mass shootings, however, Foley now claims he is patrolling the borders to keep the self-proclaimed Islamic State terror group out of the US.
"We have pictures from trail cameras that show Somalis and Middle Eastern guys with beards and everything else, but nobody is listening," Foley told the Washington Post. "We're going to have something like Paris had. It's not a matter of if, but when."
Despite the fact that the acts of terror in Paris were carried out by European nationals, politicians and pundits stateside have been using the tragedy to sell a fear of immigrants.
Last week five men from Pakistan and one from Afghanistan were taken into custody near the US-Mexico border, but no "derogatory information" was found after their names were run through national security databases.
According to the Tucson Border Patrol, 80% of the people caught crossing the border are not originally from Mexico.
Foley has been running his vigilante group for five years, and was "vetted" by the FBI following a tip in 2011 that he was placing pipe bombs on trails leading to the United States. He was never charged in that incident, and now conducts background checks on people who volunteer to work with him.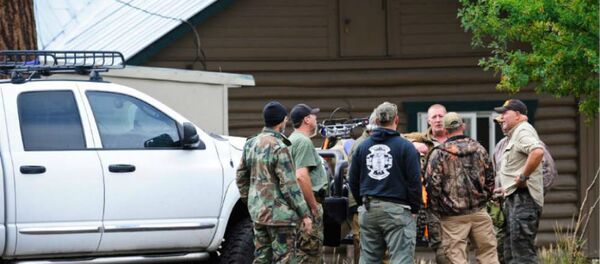 13 August 2015, 23:28 GMT
"We want to make sure you're not a sexual predator or prohibited possessor, and by doing this it shows the Border Patrol agents that we have a sense of professionalism and they don't have to sit there and wonder, 'Who are these guys?'" Foley told the Washington Post.
According to Al Jazeera, his efforts have not prevented local law enforcement from forming that opinion of him, however.
"Law enforcement has a very intensive system of selecting people," Tony Estrada, the sheriff of Santa Cruz County, told Al Jazeera America. "…When people come into a group, they don't have that. You are going to get a lot of crackpots. You're going to get a lot of people that shouldn't be there. I think that has happened before — some of the organizations find out that, you know, 'This guy is not what we want. He's a troublemaker. He's gung-ho. He's going to get us into trouble.'"
It isn't just the possibility of IS militants crossing the US-Mexican border that has citizens in a panic — residents in Montana are now afraid of the unprotected borders between their state and Canada,after Ottawa agreed to accept 25,000 Syrian refugees, which they will be vetting.
"If somebody is set on doing it, there are plenty of opportunities to cross this border," US Border Patrol agent Andrew Herdina told Reuters.
The National Border Patrol Council, the border patrol union, has requested at least another 2,000 agents on the Canadian border, noting that the much larger border between the US and Canada currently has 2,200 agents on patrol, while there are 18,000 spread across the border with Mexico.
"We have no idea how these Syrians will be vetted by the Canadians. We need a lot more agents here," Heridina said.