Europe is slowly realizing that intervention by the US and its allies is to blame for the current refugee crisis, Konstantin Voronov, a political scientist at the Russian Academy of Sciences, told Radio Sputnik.
In response to a Sputnik.Polls question about the main cause of the refugee crisis in Europe, 32 percent of those polled in the United States agreed that the threat posed by ISIL (a group that is banned in Russia) and other terrorist groups is primarily responsible. This opinion is shared by 37 percent of Western European respondents.
"While in western Europe terrorist threats are seen as the main reason, in the east they increasingly notice an uncomfortable truth, the destructiveness of Western policy toward the Middle East," Voronov said.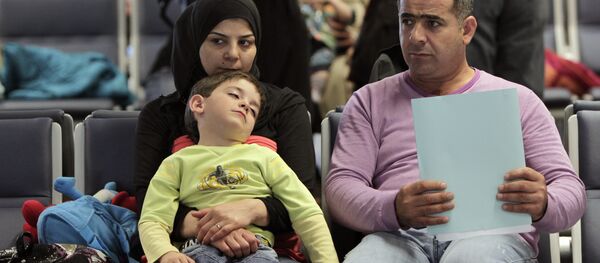 24 November 2015, 19:45 GMT
Opinions in Eastern and Western Europe differ widely. In Western Europe, 11 percent blame the migration crisis on the political and military actions of the United States and its allies, while in Eastern Europe that figure is 23 percent. Only 8 percent of those US citizens polled agreed that the refugee crisis was caused by their country's military interference.
"Now Europe is on the way to recognizing this uncomfortable truth, awareness of those events, trends and tendencies that lead to such an adverse result," Voronov added.
The poll was conducted by Populus between September 25 and October 15, 2015 in Great Britain, the US, Germany, France, Bulgaria, Hungary, the Czech Republic and Poland.
© Sputnik
ISIL Threat, Terrorism is the Main Cause of the Ongoing Refugee Crisis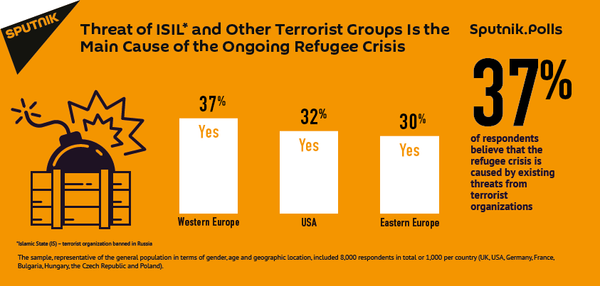 ISIL Threat, Terrorism is the Main Cause of the Ongoing Refugee Crisis