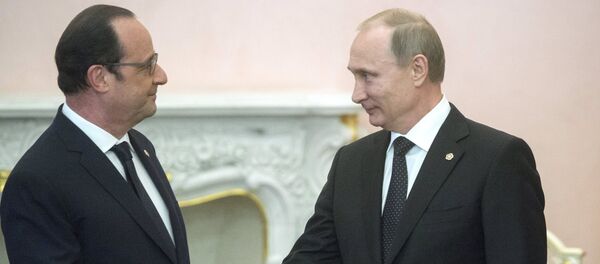 25 November 2015, 09:20 GMT
MOSCOW (Sputnik)
–
In September, at the 70th session of the UN General Assembly in New York City, Russian President Vladimir Putin urged the international community to create a broad international anti-terrorism coalition with Islamic countries.
"The coalition must be united. This is what we have been looking for since the start, this is what Vladimir Putin proposed during his September 29 speech in the UN. Considering President Hollande's courageous decision, I think that such a coalition can now be formed, and that is why the French president is coming to Moscow along with defense and foreign ministers," Orlov told France's radio broadcaster Europe 1.
Last week, French Foreign Minister Laurent Fabius spoke of Russia's "honest" willingness to cooperate in countering ISIL, while Hollande called for a broad anti-ISIL coalition including Russia and the United States. President Hollande concluded his visit to Washington, where talks with his US counterpart Barack Obama over intensifying military action against extremists in Syria have reportedly taken place.
Francois Hollande announced his intention to visit Moscow and Washington last week in the aftermath of the November 13 terrorist attacks in Paris, when extremists killed 130 people and injured over 360. ISIL claimed responsibility for the attacks.