John Hayes told a select committee hearing that the security services were reassessing its procedures in light of recent terrorist attacks, which left 129 people dead in France and 38 tourists killed when armed men attacked a hotel in Tunisia.
Thanks to Schengen, terrorists can pick up guns in Balkans then drive across Europe without being checked unless there's a specific tip-off.

— Patrick O'Flynn (@oflynnmep) November 20, 2015​
"What Paris represents, following Tunisia, is the danger of those marauding with automatic weapons who are entirely careless of the lives they take," said Hayes.
"This [Paris] was a random attack on a variety of targets based on both the will and the means — automatic weapons — to do maximum damage."
The European Commission (EC) has put forward plans update the EU Firearms Directive to prevent gun trafficking between borders in Europe. It includes banning purchases of semi-automatic firearms — even ones which have been deactivated, stricter controls of gun collectors and better sharing of intelligence between EU Member States.
EC President Jean-Claude Juncker said:
"Organized criminals accessing and trading military grade firearms in Europe cannot and will not be tolerated."
However David Dyson, UK Firearms expert told Sputnik that clamping down on the availability of guns won't remove the opportunity for terrorist attacks.
"It calls for closer cooperation between countries and the need to share intelligence and information to better track the people who illegally supply the weapons.
"Clamping down on the availability of guns won't' remove the opportunity for terror attacks."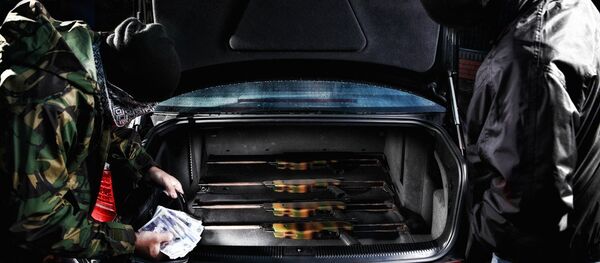 23 November 2015, 13:49 GMT
Elsewhere in Europe, police in the Netherlands recently raised concerns that gang members are increasingly using Kalashnikovs in preference to handguns due to their ease of availability in Belgium.
Officers investigating the Paris attack believe the terrorists met in Belgium to collect their arsenal before traveling to France to carry out the attacks. Belgium is known to be one of Europe's largest hubs for the illegal arms trade.
"We see a lot of pictures posted on social media sites of jihadists waving Kalashnikovs around in Syria. Given the amount of guns there, it's just a matter of transporting them across borders", Dyson told Sputnik.  
"But if we can't stop the illegal trafficking of drugs, how can we stop the illegal trafficking of guns?"
During a recent routine vehicle inspection in Bavaria, Munich police officers discovered eight Kalashnikovs, two pistols, a revolver, two hand grenades and 200 grams of explosives. The arsenal was being driven by a 51-year-old man from Montenegro with Paris its final destination.
"It's down to the border agencies and intelligence staff but if people are determined to get through with an arsenal of weapons, you can never make the borders completely safe.
"Criminals can still get hold of them. It's really about intelligence and finding out where they originate from," says Dyson.
However, according to Dyson, many Kalashnikov rifles are produced in many different countries so it's not possible to identify exactly where a particular weapon was made. He does however, suggest that tracing the ammunition instead "could be narrowed down quite easily, bullets will have a head stamp saying where and when it was made."
The warning from the British government's security minister, John Hayes, follows the attack in Paris:
"In light of that [Paris attacks], we are looking closely at our response and our strategy and policy to see if we are fit to deal with that dynamic."
British businesses are being advised to develop a procedure called "dynamic lockdown" which according to the National Counter Terrorism Security Office is "the ability to quickly restrict access and egress to a site or building (or part of) through physical measures in response to a threat, either external or internal."
The UK terror threat level remains at "severe" meaning a terrorist attack is deemed by MI5 as highly likely.