One of the pilots from the downed Su-24 was found by the Syrian Army and is currently being transported to Russia's base in the country, Rusia's ambassador to France said.
"One on board was wounded when he parachuted down and killed in a savage way on the ground by the jihadists in the area and the other managed to escape and, according to the latest information, has been picked up by the Syrian army and should be going back to the Russian airforce base," ambassador Alexandre Orlov told Europe 1 radio as cited by Reuters.
On Tuesday, Turkish F-16s shot down a Russian Su-24M Fencer bomber.
Turkish President Recep Tayyip Erdogan said that Turkey acted in line with its sovereign right to respond to threats, claiming that the Russian jet had violated Turkish airspace.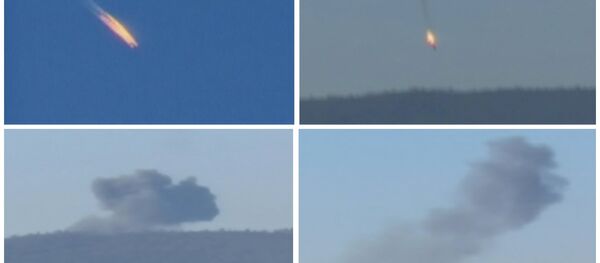 25 November 2015, 05:54 GMT
But flight data released by Russian Ministry of Defense shows that the Su-24s never entered Turkey, and were attacked while performing legitimate maneuvers over Syria.
The other pilot was killed by fire from the ground after ejecting from the plane and a Russian naval infantry soldier was killed during the rescue operation.
Russian President Vladimir Putin described the incident as a "stab in the back, carried out against us by accomplices of terrorists."